Original URL: https://www.theregister.co.uk/2009/09/19/pepcom_nyc/
Ten sizzling gizmos survive economic nightmare
It's the holiday gadget season. Apparently
Posted in Policy, 19th September 2009 00:07 GMT
They don't call it Pepcom for nothing.
After a year of economic Meltdown, you might expect financially embattled companies to limit their investment in new technologies. But the mood was upbeat at New York's Pepcom Holiday Spectacular on Thursday, and there was no shortage of new consumer goodies, each designed to attract your year-end shopping dollar. Such as:
HP DreamScreen: The talk of the show was the HP DreamScreen, which at first sight looks like your basic digital photoframe.
But it's much more than that. Once connected to your home network, it can stream a variety of media: your photo collection, Pandora Radio, Facebook updates, the weather forecast, video, and so on. It's like a modern-day 3Com Audrey - only useful.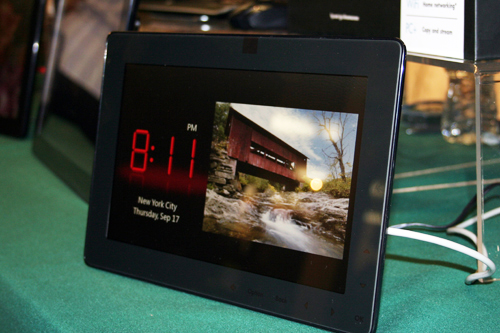 HP DreamScreen
ASUS Videophone Touch AiGuru SV1T: Every year we see companies launching new videophone setups. What we like about the latest videophone from ASUS is how simple it seems to be: The Skype rep pitched it as a videophone her mom was able to figure out.
The AiGuru is a standalone, touch-screen device that lets you make free video and voice calls to other Skype users. The quality isn't on par with what the Jetson's have, but it does the trick.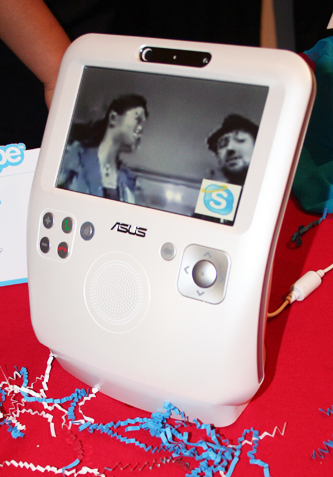 ASUS Videophone Touch AiGuru SV1T
FLO TV Auto Entertainment System: If there's one universal problem that we humans face, it's how to fit more time for television into our lives.
Fortunately, FLO TV is making strides in this area. The company is known for delivering live TV to mobile devices, and it offers many familiar channels, such as NBC, ESPN, and Nickelodeon.
Now FLO TV has partnered with Audiovox to deliver live in-vehicle television throughout the US. So rather than talking to your kids on those long drives to the store, you can just flip iCarly.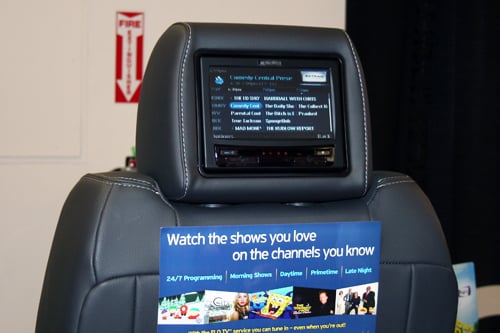 FLO TV Auto Entertainment System
ContourHD: The VholdR ContourHD is a super light, super simple "wearable" camcorder. Weighing just 4.3 ounces, it clips onto a bike helmet, ski goggles, or pretty much anything you want, and then captures high definition video from your perspective.
It keeps things simple by offering just a single, sliding on/off mechanism, and it can record up to eight hours of video. Just be careful where your eyes wander to.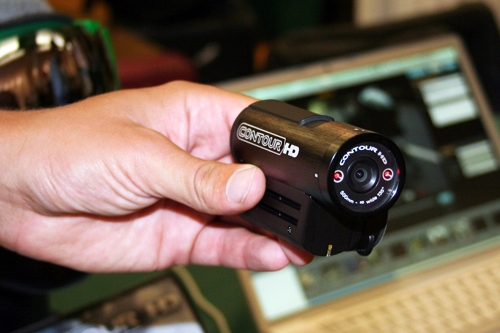 ContourHD
HTC Hero: When the Hero hits the Sprint network on October 11th, we'll have two US carriers with Googlephones. But it remains to be seen if, after such a slow start, Android will gain US traction.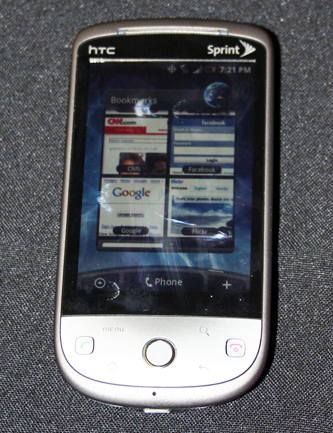 HTC Hero
Five more to go
Pong iPhone Case: Yes, an iPhone Case was actually one of the most interesting items at the Holiday Spectacular.
But this is no ordinary phone case. Developed by Pong Research, the Pong iPhone Case attracts radiation emitted from the iPhone's antenna and directs it away from the user's head to minimize exposure. It's an idea that seems long overdue.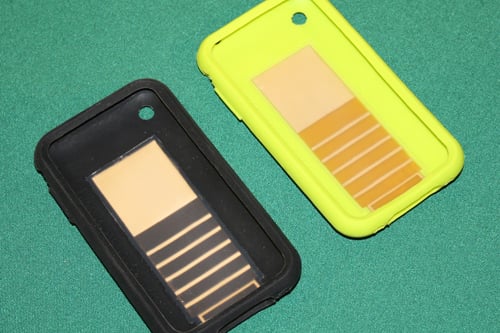 Pong iPhone Case
The Loop: It isn't for everyone, but The Loop is certainly a handy mouse for people who have connected a computer to their television.
It acts as a standard mouse, but doesn't need a surface. Instead, you can sit on the sofa and browse video and photo sites, control Windows, and even play games. While there are other "in-air" mice available, the ring-shaped design of the Loop feels very ergonomic.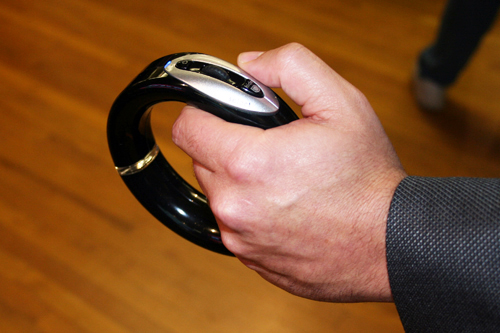 The Loop
TwonkyBeam: In the category of "everything everywhere," TwonkyBeam (from PacketVideo Corporation) is a free browser plug-in that offers an easy way to send video, audio, and photos from your Web browser to a TV (or other device) that is connected to your home network.
In other words, you can watch streaming video from sites such as NetFlix and Hulu without worrying about setting up a Media Center system or plugging your laptop directly into your television. You can even use your iPhone to control the video playing on your television.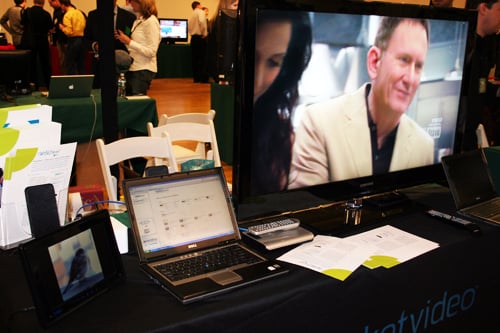 TwonkyBeam
Seagate FreeAgent Theater+ HD: Surprisingly, Seagate wasn't just showcasing bigger, cheaper hard discs. Instead, the company was showing off some new storage accessories that make your computer itself a little less essential.
The FreeAgent Theater+ HD is a docking station that connects to your TV via HDMI. Plug a compatible portable hard drive into the docking station and you can navigate photos and videos stored on your TV, all without a computer.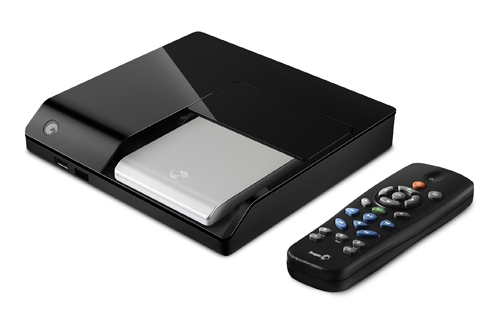 Seagate FreeAgent Theater+ HD
Nvidia 3D Vision: Nvidia drew a sizeable crowd on the show floor, thanks to a number of products using the latest Nvidia technologies.
The Zune HD (using the Nvidia Tegra) and HP Mini 311 netbook (using the Nvidia ION) grabbed show-goers' attention by displaying flawless HD on large flat screen television, but the company's 3D Vision glasses were the product that left people talking.
Nvidia reps were snapping pictures on the fly with a soon-to-be-released Fujifilm 3D camera, which uses two lenses to capture three-dimensional images. The glasses then rendered the images with fantastic depth. Impressive indeed.
But then the reps played a scene from Star Wars Episode IV that had been converted into 3D video - R2-D2 rolling by was truly a sight to be seen. These glasses might even make the prequel watchable. ®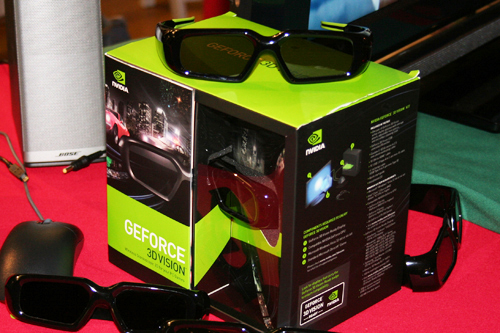 Nvidia 3D Vision