UK 'digital tech hubs' to design future gadgets
Interactive kitches, digital jewellery, pedestrian satnavs and more
Microsoft, Philips and IBM have partnered with UK universities to create a trio of digital technology hubs, where cutting-edge gadgets for the elderly, disabled and rural dwellers can be developed and tested.
Based at Newcastle, Nottingham and Aberdeen universities, the hubs "will develop new technologies utilising wireless networks and GPS", according to Lord Drayson, the Minister for Science and Innovation.
And the ideas are already flowing, with Newcastle University working on a hi-tech kitchen able to sense your movements and respond accordingly.
Primarily targeted at the elderly, The Ambient Kitchen will contain a series of electronic tags and sensors built into everything from the appliances and cupboards to work surfaces and the kettle.
For example, the kitchen could determine you're making a cup of tea by sensing that you've picked up the kettle, filled it with water, taken out a teabag and reached for a mug.
But if floor-based pressure pads detect that you've been standing in the same spot for too long then a projector would beam a reminder to take your medicine onto a near-by wall.
The university's also inked plans for digital jewellery designed to reduce feelings of loneliness or anxiety. A middle-aged daughter rubbing their necklace, for example, would cause another sync'ed piece of jewellery miles away to gently vibrate.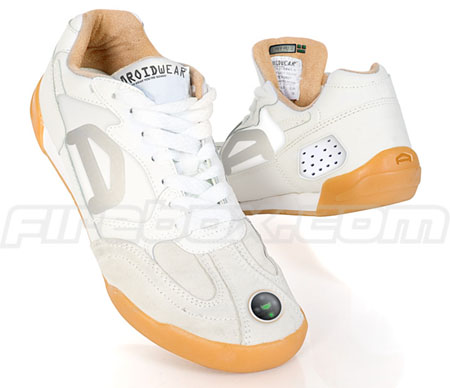 Firebox's satnav shoe was an April Fool's gag
The purpose could be to remind, say, an aged parent staying in a nursing home that their grown-up kids are thinking of them. It would also be an easy alternative to a phone call.
Also on the cards is a pedestrian satnav and personal GPS locator. The satnav could be worn on your wrist and let you plan a route by foot. Some satnavs already offer similar features. Perhaps Firebox's April Fool idea for a satnav shoe isn't so daft after all?
GPS locators could be built into personal items, including notebooks and pedometers, to help the elderly be easily located by carers, friends or family.
Professor Paul Watson, Director of Newcastle University's digital technology hub, claimed that "we could see life-transforming solutions reach the market within three to five years". ®
Sponsored: Minds Mastering Machines - Call for papers now open