Garden gizmo unveiled for green-fingered gadgeteers
EasyBloom, for bloomin' easy gardening
Gardening doesn't generally interest Register Hardware, but when gadgets meet gardens you've got yourself a recipe for success. Or, to put it another way, the EasyBloom.

EasyBloom: gardening gone hi-tech
Although it looks like a plastic off-colour daisy, EasyBloom's actually designed to monitor the vital signs of your Ficus – known as "Monitor Mode" - or to analyse the surrounding soil during "Recommend Mode" to help suggest which plants stand the best chance of survival in your balcony plant pot.
If you're looking for the perfect place to grow a plant, for example, then you simply slide EasyBloom's forked end into the soil and the garden gadget gathers a plant's-eye view of the surrounding conditions.
This process takes roughly 24 hours, but afterwards EasyBloom will know everything about the spot's available sunlight, moisture levels, humidity and more.
Alternatively, if you'd like to know why that pot plant you never water is turning brown then – over the same period of time – EasyBloom will gather all the vitals required to provide you with a detailed diagnosis.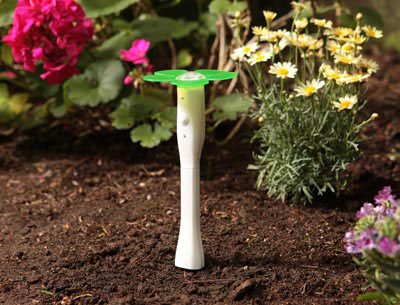 Gardening tips from a plastic daisy
Snap the gadget in half and you'll discover a hidden USB port, allowing you to plug EasyBloom into a Mac or PC. This connects EasyBloom to its accompanying website, where the collected data's run through a series of algorithms to determine – based on a 5000-strong plant database – which plant stands the best chance of flourishing in your chosen patch.
But if you've set the gadget to Recommend Mode then, once the algorithm's run its course, the website will suggest steps to take to keep your existing weed plant in tiptop health.
EasyBloom is currently only available to buy online in North America, priced at $60 (£41/€46). ®
Sponsored: Minds Mastering Machines - Call for papers now open