Gadget-laden travellers given free Heathrow juice
Airport installs 47 'Power Poles'
Power-poorly passengers passing through Heathrow Airport can now recharge their gadgets for free.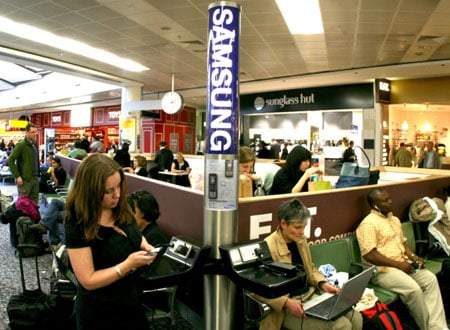 Power Poles let Heathrow's travellers recharge for free
The airport has spent £300,000 ($447,560/€337,953) researching, producing and installing a total of 47 Power Poles across terminals one and three. A Power Pole rollout is also planned for terminal four.
Each Power Pole can recharge up to eight gadgets simultaneously, but you'll have to provide your own charger.
Samsung is sponsoring the airport's Power Poles, which will also house a glass display unit to showcase the firm's latest gadgets.
Juan Perez, of Heathrow Airport's owner BAA, promised that the Power Poles will "provide an effective cost-free solution to a genuine problem". ®
COMMENTS
£300,000 spent?!
How did they spend that much?
Power consumption? Er, yeah, take a big gaming laptop, and measure the power it uses while charging its battery AND playing crysis on medium. That's the most that each socket would reasonably use.
Design? Hmm, I could knock up something graceful looking in CAD that'd do just that job.
Cost to implement? Few days labour I'd imagine.
... I'd love to see them explain where that cash went! Just out of curiosity.
I do the same thing at Charlotte Airport
Can I have £10k please for my 5 way strip?
Value for money
£300,000 for 47 nine-way mains adapters?
Even at Maplin's prices, I'd be hard pushed.