Original URL: https://www.theregister.co.uk/2010/05/14/xiotch_iseview/
Xiotech's management by iPhone and iPad
We have an app for that
Posted in The Channel, 14th May 2010 08:53 GMT
Xiotech has gone and done it, offering its ISE array monitor iPhone demo as an iPhone app.
The company's intelligent Storage Element (ISE), its sealed and long-life canister of disk drives, can now be managed, or rather monitored, through its CorteX API by Apple's uber-successful smart phone and the ISEview app.
ISEview allows administrators to monitor multiple ISE storage blades and receive real-time performance data, component status and other system information. It's available for free download on the iPhone, and Xiotech expects to deliver an iPad-compatible version soon.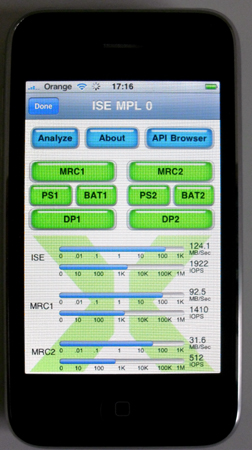 I downloaded it - not that I've got an ISE to manage - and it took just seconds. When fired up it appears to monitor a device called ISE MPL 0, an actual ISE. It must be an ISE that Xiotech has set the app up to watch. Rob Peglar, Xiotech's VP for technology, said: "It is a real ISE. It's outside the firewall in Minneapolis. You are seeing the real thing. Hence the power of REST and our interface."
There is an Edit option on the app's opening screen which lets you add the IP addresses and serial numbers of your own real ISEs and then watch them.
You can find out more about using the app here (Word doc).
The iPad, with its much larger screen, should be able to host an app that can manage as well as monitor. In fact the iPad could even become a generic data centre hardware monitor, even replacing generic KVM (keyboard, monitor, mouse) setups. Well... maybe some day. ®