Original URL: https://www.theregister.co.uk/2008/01/29/hitachi_eink_w61h_phone/
Hitachi follows Moto with e-ink handset
Blotting paper not required
Posted in Personal Tech, 29th January 2008 11:27 GMT
E-ink seems to have left its mark on Hitachi, because the manufacturer has used the technology in its latest handset - the W61H.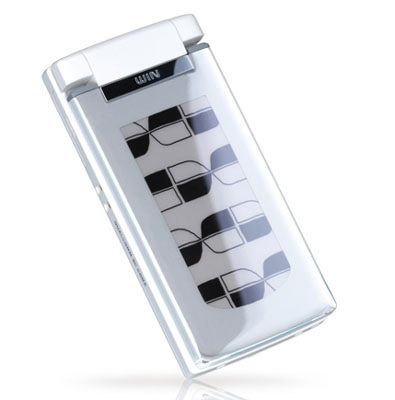 Hitachi's W61H: fitted with a 2.7in e-ink display
The clamshell phone's lid-mounted e-ink display, or "Silhouette Screen" as it's dubbed by Hitachi, measures 2.7in.The W61H also has a more traditional main display: a 2.8in LCD.
E-ink displays consist of positively charged white particles and negatively charged black particles, suspended in a specialist liquid and then printed onto a 'plastic' film. An electronic circuit is built into the film and display drivers in the gadget use this to control the formation of the pixels seen by users. One major benefit is that e-ink displays use much less power than, say, LCD displays do.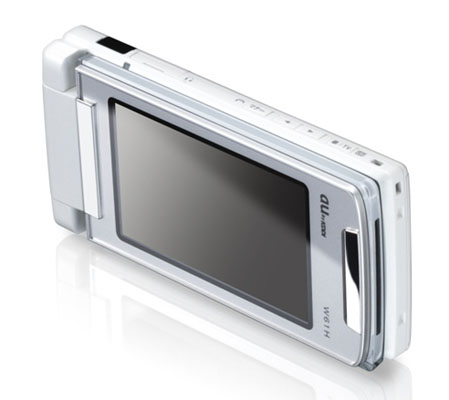 Its 2.8in front LCD display shows video content from HD sources
The handset incorporates a digital TV tuner aligned to Japan's 1Seg system. It's capable of picking up HD broadcasts, downscaling them to fit its main display.
Measuring 107 x 51 x 17mm, the phone also features a 1.9-megapixel camera, which can store images on Micro SD cards of up to 2GB. A voice memo function enables it to act as a dictaphone, though by only recording up to four 20s sound clips it won't be a competitor to Sony's ICDUX70 and ICDUX80 MP3 dictation devices.
Users get a maximum talk time of about 340 minutes, from a 140-minute charge.
The W61H isn't the first e-ink handset to hit the market. Motorola's Motophone F3 - reviewed here - already uses an e-ink display. As does Sony's eBook reader gizmo, Amazon.com's Kindle and the upcoming Readius, due this summer.
European users will have to sit tight for the time been because, so far, the handset's only being, unveiled for the Japanese market.