Big and bendy e-ink displays on way
Plastic Logic to get one over Sony and Amazon?
Plastic Logic will be ready to ship its long awaited portable and flexible e-ink display early next year, the firm has announced.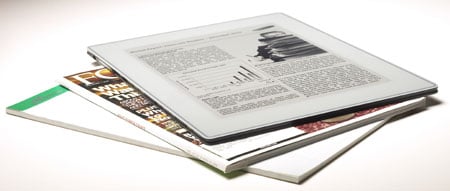 Plastic Logic's screen is thin - and flexible
First seen in 2006, the screen is based on E Ink technology - much like Sony's Reader or Amazon's Kindle – and measures 8.5 x 11in.
A spokesman for Plastic Logic said that its display is much larger than rival e-ink panels and doesn't use glass on the display - allowing it to be flexed.
The company demo'd the technology this week in the form of a large e-book reader. Plastic Logic said that the unit has an "easy gesture-based user interface" and software for organising the thousands of documents that can be stored on it. The gadget's compatible with Office files and PDFs.
The Plastic Logic reader is scheduled to ship in the first half of 2009, but a price hasn't been set yet. Later this month, Plastic Logic will open a plant in Dresden, Germany to manufacture its bendy displays.
COMMENTS
And it is called 'Dossier'
Or so it seems if you read the sample text on the PR pic...
http://www.plasticlogic.com/PRPlasticLogicPreviewsElectronicReadingDevice.html
Cool but...
Now that is cool! I would love an e-ink device to store technical texts on.
I bet it will cost a fortune though. Look at the price of an iRex Illiad at the moment - in fact most of the devices available in europe are expensive. Bookeen's Cybook G3 is €350.
As much as I want one it will be a few years before e-ink devices drop in price methinks.
@Duncan
Why not build it into the margins of the pages? That way, whenever you are reading the book in daylight, you are charging it?
Hell, I suppose you could inlay the solar cells into the very pages themselves!
Get on with the exciting stuff
How long before you can buy a car covered with this? Hmm, which colour would I like this morning? (Or how long before the display mimics what is on the other side of the car - a la Bonds disappearing Vanquish?)
How long before I can cover my walls with this? Hmm, bored of this room after 2 days, think I'll decorate again - done.
This shirt looks a bit summery for this weather - ah yes, a darker colour, and do away with that logo for now as well - done.
Charging?
Instead of the ubiquitous plug in charger faff, it would be excellent if they could put a flexible solar cell on the back of the book. There's nothing more annoying that picking a gadget up only to find the battery's gone flat while it's not been in use. Not having to take yet another charger with you on holiday would also be nice.