Reg review of 2011: Jobs, floaters and 90,000 tons of radioactive water
Cue commentards going nuclear ...
Saved by circumstance
Microsoft had different ideas, so Windows 2.0 in 1987 was designed to work with Intel's 286 processor. Two years later Intel released the 486, described by Business Week as a "veritable mainframe on a chip" while the 1990s became the era of Intel's Pentium chip. Intel's liberated Microsoft from IBM and gave Microsoft's software the power and responsiveness to succeed in the PC revolution of the 1980s and 1990s.
While the pair are today behind most of the 346 million PCs sold each year globally their efforts are dwarfed by what's been happening in mobile computing. Smartphones have been selling in the billions-of-units range for years and are expected to hit a record 1.55 billion in 2011. Apple – which accounted for around 75 per cent of tablet sales last year – is expected to move 20 million iPads this quarter.
Some are saying the era of the era of the laptop is now over. Maybe, but one thing that certainly did come to an end in 2011 was the Wintel alliance.
Would Leo Apotheker please turn the lights out on his way out of HP?
2011 was remarkable for Hewlett-Packard, the world's number-one maker of PCs, because it slammed the door shut on the madness that started in 2010.
In April 2010, former CEO Mark Hurd bought Palm, the widely liked but strategically mishandled maker of devices and the webOS operating system, for an eye-popping $1.2bn. In September the same year, Hurd was gone for other reasons and HP in November dipped hired a CEO who never stopped telling everybody he was a "software guy" so knew the biz. He was the ex-SAP CEO, Leo Apotheker.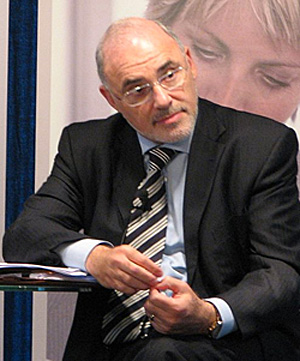 HP's Mr Software, Leo Apotheker, was gone in a year
Fresh into the job in March, Apotheker made his mark: in 2012 every HP PC shipping with Microsoft's Windows will also ship with the Linux-based webOS as well, he said. "You create a massive platform," Apotheker predicted.
Ten months after Apotheker became CEO he was out, replaced by ex-eBay CEO and one-time California Republican-party gubernatorial candidate Meg Whitman. WebOS was also gone, putting an end to HP's webOS tablet and any plans for webOS also on PCs running Windows as their primary operating system.
The end of both webOS and Apotheker looked like the end of a bet by HP board that "software" could lift their company above the funk infecting the PC market and mindset.
And what a funk: PC shipments in 2011 are expected to grow just 4.2 per cent this year compared to 13 per cent in 2010 according to IDC, which had predicted 7.1 per cent in February.
The only question is whether the funk is caused by the rotten economy and the end of consumer interest in the netbook or whether there is a tectonic shift in motion, such as a permanent move to smartphones and tablets.
Certainly, 2011 saw HP attempt to ride the mobile wave, with the TouchPad. The company was proud: possibly too proud.
"In the tablet world we're going to become better than number one. We call it number one plus," said HP's EMEA personal systems group said in May. The TouchPad launched in July but it was clear from the start that this was no iPad: 12,000 sold in the first month of availability compared to one million for the iPad a year earlier. By the end of August, retail giant BestBuy had shifted less than one-tenth of its 270,000 inventory. Cruelly, HP's decision to kill the TouchPad in August boosted sales.
HP wasn't unique in its suffering. Dell, Samsung, Motorola and Research in Motion all confidently took to the field against the iPad and all cut prices. In the largest act of PC-related carnage since Windows Vista, OEMs have lost billions in channel discounting, development, manufacturing and marketing.
"HP wasn't unique in its suffering. Dell, Samsung, Motorola and Research in Motion all confidently took to the field against the iPad and all cut prices."
Unlike its peers, however, HP went further than corrective surgery in a struggling product group: a month before he went, Apotheker announced a major operation. He confidently told Bloomberg that HP was weighing the sale of its PC group. This was no IBM spinning off PCs to the Chinese and transitioning to servers, services and software, this was the removal of a healthy organ critical to HP's business. PCs had showed year-on-year as well as sequential quarterly growth for operating margins in August.
The filler for PCs? Software: HP bought a search software company called Autonomy, a UK technology success less well known in the US, for $11bn.
However, time ran out for Apotheker in September and Whitman became the new chief. According to a statement with non-executive chairman Ray Lane's name on it, the HP board was "fully focused on doing what's right for HP and the future of this iconic company... The decision to change the leadership of HP is one the board took very seriously."
Sponsored: Detecting cyber attacks as a small to medium business