Reg review of 2011: Jobs, floaters and 90,000 tons of radioactive water
Cue commentards going nuclear ...
Death of Steve Jobs
Google, meanwhile, is trying to become more responsive and nimble – against the background of a quick-moving Facebook – by returning to the start-up culture of the early days under co-founder and re-appointed CEO Larry Page. As part of that process, Eric Schmidt was moved aside as CEO after 10 years at the top while a number of projects have been killed, and search and Gmail have been changing. The giant will look for ways to turn its search customers into permanent residents of a Google community.
2012 promises to be an even more bruising experience in the history of the two companies' relationship.
Creative, businessman, tough-guy, geek? Death of Steve Jobs leaves a riddle
Steve Jobs passed away in October at the age of 56, following a long-running battle against a rare form of pancreatic cancer going back to at least 2004.
The canonisation was instantaneous: Barack Obama, David Cameron, Stephen Fry and ordinary Apple customers were among those flocking to quickly pay tribute. They repeated the same phrases and sentiments: a creative genius, a visionary, an inspiration, a man who changed the way we live and work. Messages were left online and outside Apple's stores.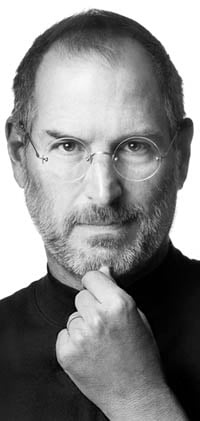 The praise came easy, but who was Jobs really?
Who was this CEO of a relatively small company in the tech sector whose passing even national leaders felt obliged to acknowledge?
The history is known. Jobs co-founded Apple with geek friend Steve Woz in 1976 where they created an accessible form of desktop-based computing based on the Graphical User Interface (GUI). For his pains, Jobs was kicked out some years later by a political company board and the CEO he hired. Jobs then founded and ran NeXT, invested in Pixar, was welcomed back to Apple, then delivered the iMac, the iPod, iTunes, iPhone and iPad.
The Mac continues to ship well and hold up a solid six-to-seven-per cent market share against the overwhelming number one, Windows. The iPod, iPhone and iPad in a short time managed to command compelling sales and market share - more than 70 per cent market share for Apple's music player, a quarter of US smartphone sales in just a few years for the iPad, and an anticipated 13.5 million units for the iPad 2 this quarter.
Microsoft for all its success actually owes Jobs and Apple a debt of gratitude: it was Microsoft's word processing and spreadsheet apps running on the Mac that made the apps look so beautiful and easy-to-use and that helped to sell the idea of the GUI on a PC. This laid the ground for the PC revolution, pushing Office and Windows to their number-one positions.
The competition - companies like Microsoft - continued to underestimate Apple and Jobs. Four years after the iPhone and nearly two years after the iPad was introduced, Microsoft - the world's largest software company and king of the PC - is still scrambling to catch up. Google, the world's largest web search company, cooked up Android against the iPhone.
Jobs wasn't defined by being "just" a technologist, some soft-faced seer of the future who let others benefit from his wisdom. Jobs was an aggressive competitor and even with a liver transplant behind him, Jobs was driven enough to unleash his lawyers on the smart-phone competition on the subject of patents, resulting in a Reservoir Dogs-style patent shootout.
Since 2010, Jobs waged an intense one-man jihad against Adobe and its Flash Player to the point where Adobe has now given up on Flash for mobile. Flash dates back to 1993 and became the go-to-way for building and running video, graphics or ads on PCs and online through a browser plug-in.
Adobe claimed more than 90 per cent of web-connected PCs were installed with Flash but Jobs wasn't letting Flash on to either the iPhone or the iPad. He called Adobe's software buggy and backward, and he championed HTML5 instead.
Was he being genuine in his embrace of HTML5 or was he fogging the issue to keep the iPhone and iPad open only to Apple? It didn't matter, because by November 2011 Adobe said it was stopping development of Flash for mobile and handing over its Flash-based Flex SDK to an open-source foundation.
Since 2010 Jobs waged an intense one-man jihad against Adobe and its Flash Player to the point where Adobe has now given up on Flash for mobile.
It was sad that for all his foresight and fire on technology, Jobs couldn't see into his own future. According to the biographer of Apple's CEO, Jobs held out against potentially life-saving surgery for too long, and picked alternative treatments instead. It was a decision he regretted.
For all the kind words, there were also words that hinted at the darker side of Jobs' competitive actions and driven personality. A year before Jobs passed, Apple was singled out by web daddy Tim Berners-Lee for helping kill the open web by locking up data inside an iTunes walled garden. Open-source firebrands Richard Stallman and Eric Raymond unleashed three bad taste attacks on the Jobs legacy: Stallman reckoned Jobs exerted a "malign influence" on computing, while Stallman said Jobs had hypnotised millions "into a perverse love for the walled garden." Others took issue with the consumerism – the i-everything.
Those close to him have revealed how just how much the "brilliant" Jobs actually relied on the genius of other people at the critical times in his career. They also revealed how he's failed to acknowledge the parts they'd played. The engineering brains behind the first Apple machines was Woz. He made Woz cry, having tricked his friend and business partner in a game development deal with Atari that saw Woz do the work and Jobs pocket the bonus. More recently, it was gentle-faced Jonathan Ive – lead designer on the iMac, iPod, iPhone and iPad – who had cause to complain. In his biography, Ive says he and others became upset at Jobs because Jobs had taken too much of the credit for their ideas.
Sponsored: Detecting cyber attacks as a small to medium business