Original URL: http://www.theregister.co.uk/2009/06/08/ozzie_google_wave/
Microsoft architecture chief: Google Wave 'anti-web'
Email-IM hybrid 'too complicated'
Posted in Software, 8th June 2009 23:39 GMT
Microsoft's chief software architect has branded Google's Wave collaboration effort as "anti-web".
Ray Ozzie told the Churchill Club in California last week that Wave violates a principle he currently holds dear - that complexity is the enemy of the web.
Ozzie said the open web relies on open data formats and protocols, not opaque packages and payloads being tunneled across the web - yes, that was Microsoft saying that.
He did not explain exactly how he believed Wave to be complex. Instead he suggested that Wave would rely on open source - because without it, Google's collaboration platform would be too complicated for those outside the company to implement.
"I have nothing but the highest degree of sincere respect for the people who took this on," Ozzie told a Churchill Club dinner event on Thursday evening.
But "if you have something that by its very nature...is very complex with many roles and the way you configure it...then you need open source to have many instances of it because no one will be able to do an independent implementation of it," Ozzie said.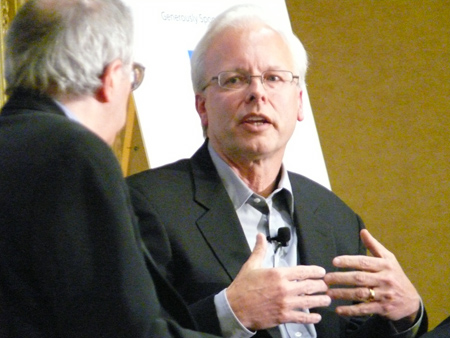 Ozzie, the collaboration pioneer: hopes "we" learn a lot from Wave
He contrasted Wave with Microsoft's work on Mesh, which is currently in beta. This features a framework to store data such as contacts, email, documents, or photos and will synchronize with devices via extensions to RSS- and Atom-based engines.
Mesh is expected as part of Microsoft's Azure cloud later this year.
"Google Wave and Mesh are basically the same thing," Ozzie claimed. "But the nature of Mesh was learning from Groove and saying you are going to do synchronization, you are going to distill it down to simple things that people can do independent implementations of. So it's all based on RSS."
Ozzie is regarded as a pioneer in collaboration. He invented Lotus Notes, that staple of enterprise collaboration now owned by IBM. He also created Groove Networks for people to create online workspaces and share documents. Groove was acquired by Microsoft in 2005 and went on to become Microsoft Office SharePoint Workspace.
Exchange of ideas
A year ago, Ozzie assumed Microsoft's mantle of technology leadership previously worn by Bill Gates. So naturally he feels the direction he has outlined for the company is superior to that of the competition.
But unlike the Lotus or Groove days, Ozzie is dealing with an organization with a vast and complex mix of products on PCs and servers, which he must also work with. Also Microsoft is trying to make some software partly available from the cloud - it is building versions of Exchange and SharePoint to run as hosted services on Azure.
"What excites me more [than Azure] is in the online Exchange services," Ozzie said. "A year to a year-and-a-half ago when we stated talking about this with customers, partners and integrators they didn't understand why they wanted to do this. Now partners are building practices around this."
You still need to buy into the Microsoft SQL Server architecture, for all Ozzie's talk of the complexity of Wave and the implied openness of things like Mesh and the Exchange and SharePoint services. Azure's storage system, for instance, is based on Microsoft's SQL Server. Also, you'll still be building applications for Azure and all those Microsoft services using Microsoft's Visual Studio and relying on .NET.
Google Wave makes use of technologies that exist outside the company, such as Extensible Messaging and Presence Protocol (XMPP) for federated, real-time collaboration in the Google Wave Federation Protocol and Javascript to build gadgets.
But Wave has its own issues, namely that the machine-to-machine currently only uses Google's App Engine, instead of other containers. Also, it seems that apps you want to integrate with Wave will need to use Javascript, which is noted for its simplicity and - at the same time - complexity.
In a way, this is classic Microsoft meets what is emerging as classic Google. Microsoft gives you an integrated stack but all the moving parts are anchored on a single company's vision. Google frees you to work out the bits yourself, but you must rely on your own smarts or those of your chosen tools.
"I hope we learn a lot as an industry from Wave," according to Ozzie - who has clearly placed his bets. "We will learn whether users want to think about a holistic experience versus keeping email separate from IM from workspaces. We learned a lot from Notes. Everybody who tries to come into this space learns a lot."
You can see more from Ozzie here. ®