Microsoft's software vision chief embraces future horror
New Bill sees Windows everywhere
Ray Ozzie, Microsoft's chief software architect, is optimistic about Microsoft's future despite the challenge to PC software from cloud services and netbooks.
Speaking at the Churchill Club in Palo Alto, California, on Thursday, Ozzie said we'll continue to need an operating system to abstract the hardware in servers, PCs, and devices that attach to the cloud. According to Ozzie, it's the programming model that's changing, not the need for an actual operating system.
Some cloud evangelists have imagined a virtualized future where operating systems disappear.
Ozzie - who took over the chief architect role from the departing Bill Gates - did indicate that Microsoft might not make as much money from cloud-based services as it does on software. But despite this, Microsoft is investing in completely modular data centers to run its planned Azure cloud and to deliver hosted versions of SharePoint and Exchange. Ozzie predicted Microsoft would have data centers in every country around the world to cater to local regulations
Hesaid Microsoft would need to partner with telcos in these countries to federate the entire Azure infrastructure.
On netbooks, Ozzie reckoned machines are being purchased as inexpensive laptops - meaning opportunity for Windows. That means, PCs not just for web browsing but with people trying to download software, run media, and use applications like Microsoft's Office.
Ozzie also justified Microsoft's decision not to put Windows on ARM, something that emerged at this week's OEM fest Computex in Taiwan. Ozzie said Windows could run on ARM, but emulation would be needed, and Microsoft is betting on the continuance of x86 architectures from Intel and AMD.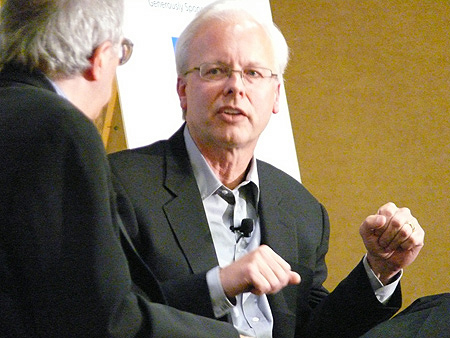 Fightin' talk from Ozzie: old technologies co-exist with the new
It was an energized performance from the usually quiet-spoken Ozzie, who occasionally reacted strongly to what people see as the challenges to Microsoft's traditional PC-based business and the way it is responding. This is nsurprising, perhaps, given that Ozzie is responsible for setting Microsoft's technology direction.
And, if you think Billo's still taking decisions, you'd be wrong. "He writes and calls...he's engaged in the things he wants to," Ozzie said before adding: "He knows he's not accountable for our success any more so he knows not to give orders or anything."
It also sounds like Ozzie has scrapped Billo's famed think weeks, where he invited and consumed white papers from across the company on possible directions while cloistering himself away. A broader senior set of technology individuals are now getting feedback in a "slightly different way" Ozzie said. "We'll see how it pans out."
Sponsored: Minds Mastering Machines - Call for papers now open