Apple iPhone
The web in the palm of your hand
Now we come to the crunch: is the iPhone any good? Yes, it is. £270 good? Maybe not. It's a good size for viewing information, but isn't so bulky it's uncomfortable to use as a phone up against your ear. In you hand, it's got enough weight to suggest solidity, but not bulk. The lack of a user-replaceable battery is a distinct flaw, but no worse than any iPod.
What swings it for me, is that the iPhone works and works well. It doesn't feel limited in either speed or functionality by its size and portability. After years of trying a wide range of smartphones based on all the major operating systems, it is so good to have a device that doesn't pause for a second or two whenever you change apps, or the screen orientation, or a web page. The iPhone's UI is nothing if not fluid, and that is so welcome and - for me - worth the trade-offs in functionality.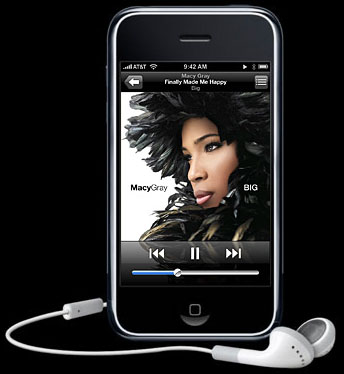 Apple's iPhone: it's a darn fine iPod too
As a phone that also majors in media playback and web access, I'd choose an iPhone over, say, a Nokia N95 any day of the week. Only the much lower price you can get an N95 for might sway me. Actually, no it wouldn't.
The contract is no worse than any other two-year package - 18 months in the UK - from any other carrier, so that leaves us with only the up-front cost of the hardware to consider. Yes, the iPhone is expensive, but you're paying for a device that works so much better than the cheaper ones. And you'd easily more for, say, an HTC handset unlocked than you do for an iPhone. I'd rather have the Apple product than an HTC Touch, for instance. HTC's front-end software is nice, but at heart it's still a Windows Mobile device, with all that operating system's benefits and flaws.
Should the iPhone have had 3G? Yes, and it would have lifted the handset even further above the heads of the competition. I would say that it's worth waiting for the 3G model if you're someone who expects to be loading up a lot of data when you're out and about. Me, I'm happy to check websites, email, the weather forecast when I'm at home or the office, both of which have Wi-Fi networks available. Edge is slow, but it's useable, especially for the apps that just grab a quick bite of data and are done, like Weather or Stocks.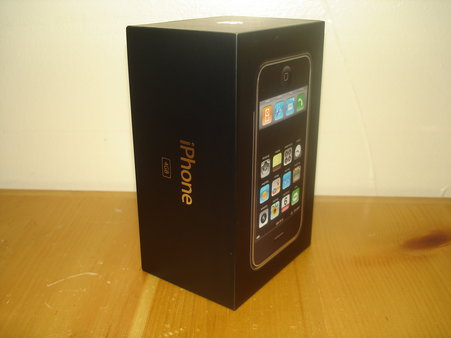 Short of removing the appropriate settings, you can't disable Edge, and the iPhone will attempt to go online any time you run a connected app. Disabling Edge just invokes an irritating 'Edge not available' dialog at these moments, so you're better off taking the data hit. At least the amount of information transferred is very small with the likes of Weather and Stocks.
Verdict
Over-priced, over-hyped and - soon - over here, the iPhone proves yet again what the iPod demonstrated: that great software can beat good hardware. The iPhone succeeds because it takes a stack of useful web services, makes them look pretty and easy to read, and gives them to you almost anywhere.
Crucially, this is not a phone that's accumulated PIM, music and web features over time, it's a fully integrated device from day one that presents all the information you want in a consistent way. The whole is more than the sum of its parts.
Oh, and you talk to people on it too.
Sponsored: Minds Mastering Machines - Call for papers now open

Apple iPhone
iPod, web viewer and phone all skilfully and arfully blended into one...
Price:
£270 + 18-month O2 contract RRP