Apple iPhone
The web in the palm of your hand
iPhone comes with a variety of web-centric apps: not only a browser, Safari, but also Mail, Stocks, Weather, YouTube and Maps. With the exception of YouTube and Stocks, I've used all these applications on a daily basis since I got my iPhone. That's right, used - not played with and then forgotten, but used.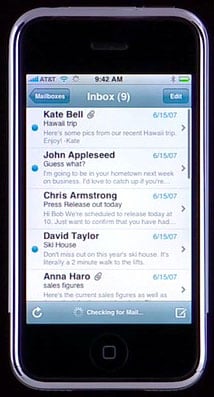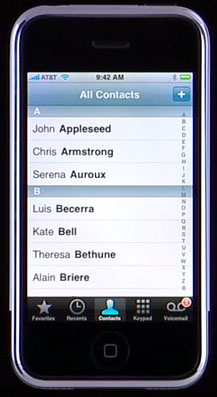 Mail and (right) the Phone app's contact list
Mail's self-explanatory and works as well as any mobile email client does, though Apple makes better use of the bigger screen space than a lot of its rivals do - your inbox can show more than two lines of each email, for instance. I set it up with my Gmail account, and it works just fine. There are no filters, alas, and I've yet to work out how to add new email archiving folders, but I'll get there.
I've already viewed a variety of incoming PDF, Microsoft Word and Microsoft Excel attachments, but there's no editing.
Other handsets allow you to access weather and mapping data, but it's invariably done through either the web browser or, more commonly, the carrier's crude WAP site. iPhone's apps save you the bother, tying into Yahoo! and Google's free-to-all online services for the data that will be displayed in a visually stunning way. I'll discuss iPhone's UI later on, but for now it's enough to say it looks superb. Whatever else Apple may or may not be able to do well, it can do amazing graphic design.
Weather proved a frequently used tool for me. I set it up to show London's climate, but I quickly added San Francisco - because I was there - and later Brisbane, Australia, home of my wife's folks and a city desperately in need of rain. I can now see when they're going to get some. And I can add further locations as and when I visit them. Vacation to Sicily? No problem, just tap the Edit button, type in 'Palermo', hit Search and up it comes. Done. Now I know exactly what kind of clothing to pack.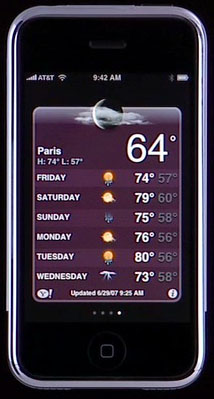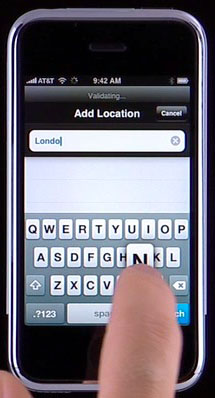 Weather: view a forecast and (right) add a new location
World Clock isn't a true internet application, but again it's one I found myself using very frequently. Setting up clocks for - again - London, Brisbane, San Francisco and - this time - Taipei gives me an instant readout of times in key locations for me and an at-a-glance indication of whether everyone's up or still in bed.
Again, other platforms do this kind of thing, but not as well. I mean, does Windows Mobile 6 even have daylight saving time support yet?
Maps proved useful in pinpointing The Register's San Francisco office. I knew the address, but not its locale. Maps showed me, and allowed me to bookmark the location for the next time I'm in town. It'll even plan routes, but with no GPS facility there's no turn-by-turn guidance. But then the iPhone is a handheld tool, not a device you just stick in your car. I found it good for guiding me around a city, kind of like a virtual tour book. It'll show satellite photographs of your locale too.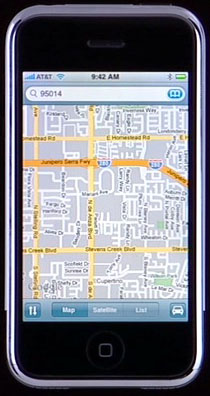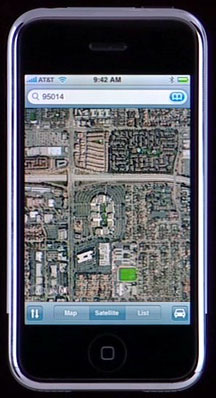 Maps: standard charts and Google Earth satellite pics
There's a bug in Apple's code: enter two bookmarks into your start and end locations, and the iPhone sends off the name of the bookmark, not the stored address. Entering addresses manually works, and showing the location of a bookmarked address works, but not the route-planning bit.
You'll still need to your Lonely Planet guide for restaurant and sight-seeing recommendations, but the iPhone makes a big improvement on the book's tiny maps or fold-out charts that get left on trams.
Sponsored: Minds Mastering Machines - Call for papers now open