Apple iPhone
The web in the palm of your hand
Rotating the iPhone when you're running the iPod application flips the album view into Apple's now famous Cover Flow mode. Here, unlike the underpowered iPod Classic, the motion of the album covers is fluid, with almost no sign of jagged edges. There can be a slight lag while the images first load, but not one that interrupts the movement or hinders your ability to select tracks to play.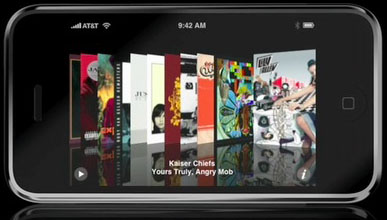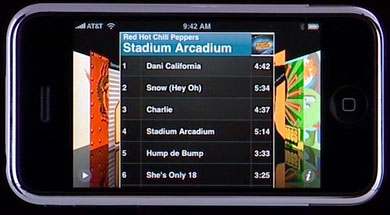 Unlike the iPod Classic, Cover Flow works well here
Turning doesn't work with the list of on-board videos or a movie that's being played - these resolutely remain in portrait and landscape orientation, respectively, no matter what you do. While this loses Apple a few points, it's not exactly a deal-breaker.
Video playback on the iPhone's 3.5in, 480 x 320, 163dpi screen is excellent, by the way. It's no TV, of course, but it beats watching video on a more standard-sized phone display - and, for that matter, the analogue screens in the back of airline seats. I like the way you can play full screen or full ratio with just a couple of taps on the screen. The sound's excellent, though once again the iPhone is a handset that will not take a standard pair of headphones, such as my noise-reducing Shures. Yes, the phone has a 3.5mm socket, but it's recessed - entirely unnecessarily, as far as I can see.
I can only guess Apple did it to ensure folk use the bundled headset, which includes a tiny microphone unit and remote control so you can take calls - whatever's playing fades quickly away and pauses when a call comes in - and pause/play/skip tracks. But it really should have bundled an adaptor.
It's bundled plenty else. After years of shipping iPods without an AC adaptor or a dock, the iPhone comes with both. The wonderfully dinky AC unit has a standard USB port, into which you plug a standard iPod docking cable, also bundled. You can probably use it for other USB-charged devices too.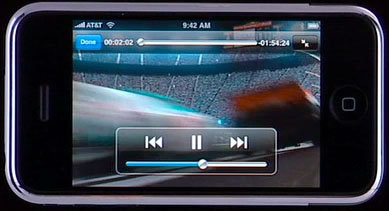 Video playback's good
You also get a cloth for wiping the quickly greasy display. Don't ask me how prone it is to scratches - I didn't try and, frankly, I don't plan to. If you're spending $433/£214 (after California's sales tax has been added), you want to look after your purchase, not shove it in a key- or change-filled pocket. That said, signs are the screen's pretty resilient, though a colleague managed to screen his three-day-old screen. Fortunately, the AppleStore gave him a new iPhone.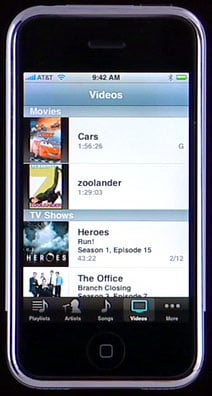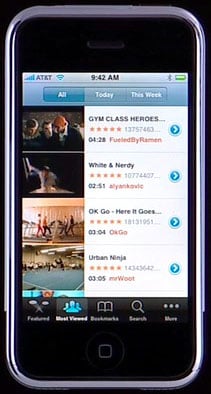 Selecting video on the iPod app and in YouTube (right)
Fingerprint marks are very visible, but the iPhone's glass front makes it easy to clean. Certainly, buffing it up with a hanky or shirt tail cleaned without scratching.
I found the call quality to be pretty good, both on local calls and transatlantic conversations. Since the phone was unlocked, I couldn't access the Visual Voicemail feature, but it's easy enough to dial my regular voicemail number and proceed as usual.