Apple iPhone
The web in the palm of your hand
Not you'll know there's a message waiting for you, but the iPhone does list missed calls, and if you get one just call up your voicemail number on the off-chance. The voicemail button can easily be reprogrammed to dial your carrier's voicemail number. iPhone owners who stick with the official carrier won't, of course, face this problem.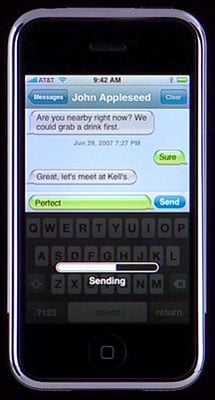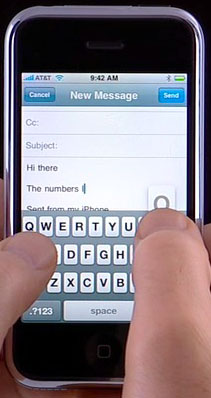 Text: SMS like a Treo... but the virtual keyboard's not like a real one
Nor will the face the connectivity hurdle that I faced when moving beyond the reach of Wi-Fi. It's not an insurmountable obstacle, fortunately - plenty of networks' GPRS settings are available online, and I simply punched in O2's in order to gain access to, when I tried it, T-Mobile USA's Edge network. Edge is just a speed-bump of GPRS, so there's no reason why this should be a hindrance.
Back in the UK, I turned on my iPhone and it connected to the O2 network. Even the tiny E icon appeared to show the presence on an Edge network.
I should just run through the iPhone's other apps, briefly. They're all self explanatory: Notes, Calculator, Settings, Camera and Text. The latter's the SMS facility, which adopts presents messages between the same people as an instant messaging conversation, a trick Palm brought to its Treo smartphone some years back.
Settings is home for all your (limited) customisation opportunities, and it's here you can activate Bluetooth for basic headset connections. I tried the iPhone with a pair of Logitech wireless headphones, but it didn't register their presence, so no A2DP wireless stereo, I'm afraid - a sad omission, though wireless stereo has yet to hit the big time.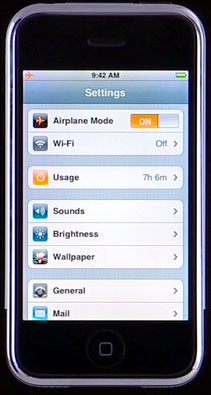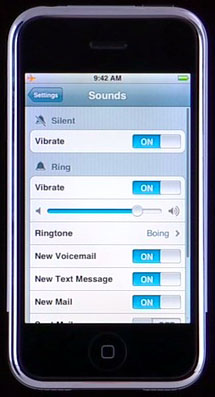 The Settings app and (right) its ringtone section
There's a decent selection of ringtones, but you can add more with third-party apps like Rogue Amoeba's MacOS X-only MakeiPhoneRingtone and Ambrosia Software's iToner. AppTap is a handy tool that provides a way of downloading and installing other applications, including utilities for customising your iPhone beyond the limits Apple applies. Apple won't, but someone else will come up with a VoIP app soon enough.
Sponsored: Minds Mastering Machines - Call for papers now open