Apple iPhone
The web in the palm of your hand
Or maybe not. The iPhone version of Safari can connect you to online city guides, so perhaps you don't need the paper guidebook after all. Safari is, without doubt, the best-looking mobile browser, by a very long chalk. It's not as fully featured as the desktop version, but then most mobile browsers aren't either. What it does do, however, is make a very good stab at presenting the page as you'd see it on a desktop - so there's none of that misplaced columns and poorly aligned graphics you get with many other mobile browsers.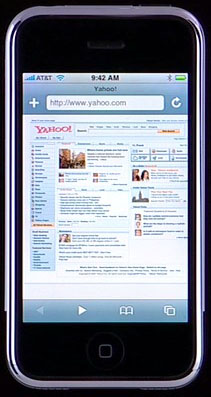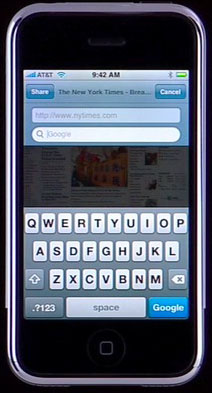 Safari: desktop-like view, fit to screen, or type a URL (right)
Since iPhone synchronises your Safari bookmarks, there's no need to re-enter them on the handset, but keying in fresh ones isn't too much of a chore. No, the virtual keyboard isn't as quick to type on as a physical one, but it's not much less so, and it beats typing or tapping with a stylus on the tiny virtual keyboard Windows Mobile presents.
The iPhone is supposed to learn from your typing style, dynamically calibrating itself as you use it. I certainly found myself starting slowly but gradually picking up a little speed as my (apparent) correct-letter rate improved. Was that me, or the iphone responding with a better forecast of which letter I intended to type? I can't say, but one way or another my iPhone typing got better.
But the iPhone's not just about typing, it's a gesture-reading device too. Safari's initial image of a web page may be too small to read - just put two fingers down on the part of the screen you want to look at more closely, drag them apart, and Safari zooms in - dynamically, in real time. This device is, for a handset, incredibly responsive. There's the tiniest of lags while the Safari redraws the screen when you stop moving your fingers - the scaling's cleverly done at low resolution to keep it moving - but it never spoils the sensation of speed and certainly won't leave you wondering when you're going to get to look at the page.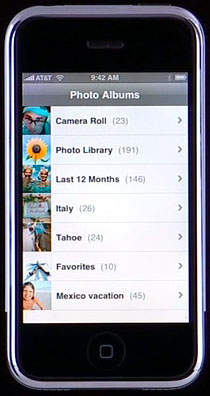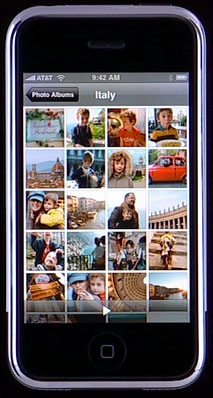 Photos: folders lead on to thumbnails...
Pinching your fingers zooms back out again, and you can press and drag a finger around the screen to move around the page. Use your finger to literally flick through lists and side-by-side panels as though they were printed on a freewheeling dial. Double-tap to zoom up a column to fit the screen. The point is, it's flexible - there are no fixed zoom levels, and you're not limited to either thumbnail or full-size. And you can have multiple pages open at once, allowing you to flip back and forth between them, quickly and at will. The wife and I had no trouble sharing the iPhone to explore the websites of Sony and Toshiba for the new laptop she wants to buy.
Some reviewers have found pages that Safari doesn't render too well, but I found only one that didn't quite follow the desktop layout. But it was still readable, and no worse than it would have been under another device's browser. And Safari will improve over time.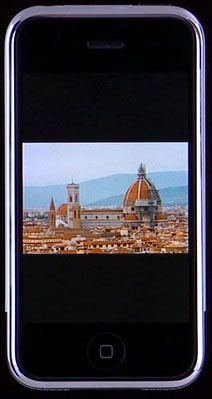 ...to individual shots. Wrong orientation? Just turn the iPhone...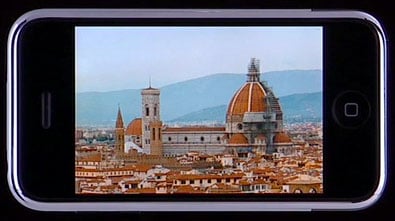 ... to reformat the image, almost instantly
Gestures work in other apps too - you zoom in and out of pictures in the Photos application in just the same way. My iPhone is loaded with a couple of dozen piccies of my missus and our little boy, and it was nice to take a moment to watch them in a smoothly flowing slideshow. Nothing new here, but physically rotate the iPhone sideways through 90° and the landscape picture automatically expands to fit the new display orientation. If the next picture's a portrait, just turn the phone back round again. Just like zooming, this re-orientation is smooth and quick - unlike the Windows Mobile and the Symbian phones that offer this feature - and you don't have to press anything to make it work. It just does.
Well, almost. The iPhone likes to be almost vertical when you turn it - if you're holding the device so it's angled away from you, the sensor sometimes doesn't register the change. A flaw? Yes, but an imperfect rotation sensor is much, much better than no sensor at all.
And, like Nintendo's Wii remote, it's going to make for some very addictive motion games.