Original URL: http://www.theregister.co.uk/2013/07/10/review_acer_iconia_w3_tablet/
Acer Iconia W3: The first 8-inch Windows 8 Pro tablet
Microsoft's latest in its tiniest hardware package yet
Posted in Tablets, 10th July 2013 06:04 GMT
Review Microsoft has been hinting at smaller tablets running full Windows 8 for months, and with the arrival of the Iconia W3, an 8.1-inch Windows 8 fondleslab from Acer, we finally have a taste of what those look like. Unfortunately, the result is a mixed bag.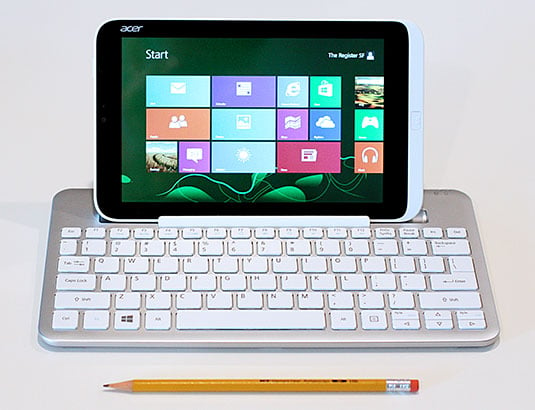 The tiny Acer Iconia W3, shown here dwarfed by its keyboard stand (sold separately)
It's no secret that Windows tablets have been selling poorly compared to Apple's iPad line and the various Android alternatives. One theory for Redmond's weak showing was that the Surface and other Windows tablets were overshadowed by the success of the iPad Mini, released at a time when all Windows 8 slabs had displays of ten inches or larger.
But while devices that are more portable may be what consumers want, Acer's Iconia W3 only serves to demonstrate that Windows 8, in its current form, is still clunky compared to competing tablet platforms, and shoehorning it into a pint-sized device does it few favors.
What's more, Windows 8 shortcomings are only compounded when running on a device with middling hardware specs, which unfortunately is the case for this first showing from Acer.
Underwhelming hardware
As smaller tablets go, the Iconia W3 feels comfortable enough. Weighing in at 1.10 pounds (499g) and 0.4 inches (10.2mm) thick, it fits right in between smaller Android tablets such as the Nexus 7 and earlier, 10-inch Windows 8 tablets, such as the Microsoft Surface.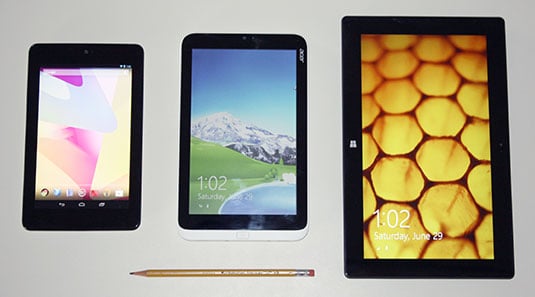 Left to right (above) and top to bottom (below): Asus Nexus 7, Acer Iconia W3, Microsoft Surface Pro
Unfortunately, the W3's overall build quality doesn't feel up to par with either of those devices. Clearly under price pressures, Acer has cut a few corners, resulting in a tablet with a plastic body that feels cheaply made even though it's a little heftier than some other offerings.
The W3's display is its biggest disappointment. The 1280-by-800 resolution panel is bright enough, but its viewing angles aren't great and its washed-out colors look lousy. The display's coating also gives everything a grainy, speckled look that's none too attractive, particularly when you have to hold the screen close to your face to read tiny text.
Why Acer would spec such a low-quality panel is beyond me, particularly when the Iconia W3's raison d'être seems to be to prove that tablets with smaller screens can perform just as well as their larger cousins. But there you have it.
The device's other specs, while adequate, are hardly stunning. My unit came with a dual-core Intel Atom Z2760 processor clocked at 1.8GHz, but the versions now on sale are being advertised as having 1.5GHz chips.
The lower clock speed should help with battery life – I only seemed to get six of the promised eight hours – but its performance won't impress anybody. Even my 1.8GHz version seemed sluggish at times, but I'll get more into that later.
The W3 comes with 2GB of RAM and mine shipped with 64GB of flash storage, although a 32GB version is also available. Adjusted for the boot and recovery partitions and with Microsoft Office 2013 installed, however, mine reported just "34.0GB free of 49.3GB," so the 32GB model is likely to feel a little cramped.
Note, though, that you can also increase the total storage by adding a microSD card. The Iconia W3's specs claim it can handle cards up to 32GB.
As can be expected these days, the tablet comes with front and rear cameras, though both seem mediocre. They might be good enough for video chats, but still shots come out grainy and pixelated, particularly under low-light conditions.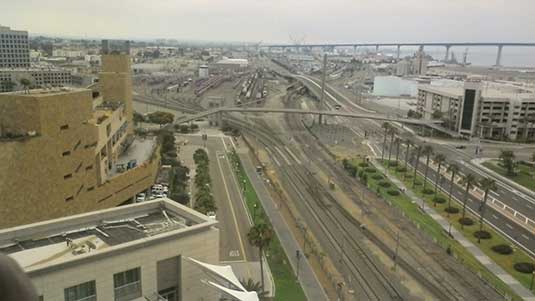 It was a hazy day, but not that hazy: notice how poorly the Iconia W3's rear camera resolved
the trains in the distance. This is no tablet for photographers. (Click to enlarge)
On the plus side, the tablet's 802.11b/g/n radio seems to work well enough, and Wi-Fi did not let me down during a recent hotel stay.
Peering into tiny, tiny Windows
I've used Windows 8 almost exclusively since it launched last October, on both PCs and tablets, so getting up to speed on the Iconia W3 was no problem. Still, I found myself a bit spoiled by my experiences with small Android tablets in some minor respects.
Most notably, the Iconia W3 charges using an old-school AC adapter, rather than through the micro-USB port. While that's typical of Windows tablets, it means you have one more thing to remember to bring with you on trips. Charging your tablet with the same cable you use to charge your phone is just far more convenient, especially with a small device like this.
I also missed being able to quickly transfer movies, MP3s, and other files from PCs over USB, as I can do with Android devices. Again, Windows provides other ways to do this (microSD cards being the most obvious), but with a portable device it's nice to be able to do things the quick-n-dirty way when you're in a hurry.
Unfortunately, this sense of stumbling over minor roadblocks has been my overall experience with Windows 8 tablets, as compared to the competition. Windows 8's schizophrenic tablet/desktop personality takes some getting used to, and a small tablet really drives home the impression that Microsoft's latest OS is neither fish nor fowl.
It's hard to appreciate just how tiny Windows 8 desktop controls are on an 8.1-inch screen until you see
them in person. Note the US penny at the bottom of the display; the year reads 1975 (Click to enlarge)
The tablet part works OK, but it doesn't feel as natural or intuitive as dedicated iOS or Android fondleslabs do. The desktop part, on the other hand, is a minor disaster on a tablet, and that goes double on a device like the Iconia W3, with a screen the size of a pocket paperback.
You'll notice just how cramped Windows 8 feels on the W3's small display the first time you pull up the device's onscreen keyboard, which takes up about half the screen real estate in landscape mode. You may find you need to slide dialog boxes all the way up to the top of the screen just to see the fields you're trying to type into.
Productivity? Sure, some
Acer has bundled a free copy of Office Home & Student 2013 with every Iconia W3, something Microsoft says will be typical of Windows 8 fondleslabs with screens under eight inches. Unfortunately, nowhere are the limitations of the Iconia W3's diminutive display more evident than when running Office.
Despite some meager attempts to update it for touch devices, Office remains fundamentally a desktop productivity suite, and working with it on the Acer's small screen can be an exercise in frustration.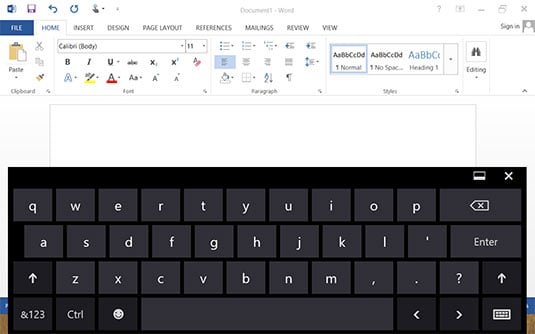 Small wonder Microsoft held off on releasing small tablets. Windows 8 isn't ideal for little screens
Technically, what comes preinstalled is the Office Click-to-Run launcher, based on the same technology used to distribute the Office applications to Office 365 subscribers. The first time you run it, you'll need to enter a Product Key that Acer has included on a card in the box, after which the suite will download and install itself (so you'll need a healthy internet connection for this first launch).
Once it's installed, however, W3 users are likely to realize that a free copy of Office isn't such a great bonus, given that almost no effort has been made to adapt it to the tablet environment. Office's touch controls are inadequate for small screens, and you'll need fingertips like needles to access some of the menu options. While you can use pinch-to-zoom to increase the size of the text you're typing, other menus and controls always remain the same size – and here they're positively puny.
Web browsing on such a tiny Windows tablet isn't much fun, either. Chrome and Firefox are both awkward on Windows 8 touch devices – Chrome is the worst of all, sadly – making Internet Explorer the best option out of the box (something I never thought I'd say).
Also, because the Iconia W3 runs full Windows 8, web servers tend to send you the full desktop versions of their sites, which can be hard to navigate on a device with an 8.1-inch touchscreen. I occasionally found myself stabbing at onscreen controls repeatedly, to no avail, and many sites' layouts just felt awkward.
Browsing the web seemed to give the W3's Atom processor some trouble, as well. Open a few windows and the browser would start to exhibit unexplained pauses, during which controls would become unresponsive. Flash video, in particular, seemed prone to stutter, stall, and occasionally crash.
Given that web browsing is presumably one of the main uses for any such device, this was a disappointment, although it's possible these problems will stabilize with future software or firmware updates.
Add-ons and accessories
In keeping with PC OEMs' habit, Acer has also loaded up the Iconia W3 with a bunch of Windows Store apps, including such popular apps as Amazon, Encyclopedia Britannica, Hulu Plus, Netflix, and Skype. I wasn't that interested in many of them, but they're included mainly as a convenience and there's nothing to prevent you from uninstalling them.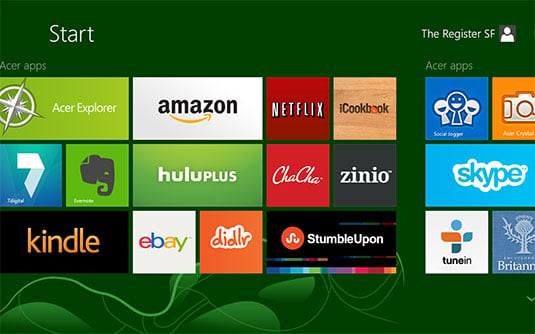 Acer's preinstalled Windows 8 apps don't offer much value, but as bloatware goes they're a minor nuisance
Acer's own cloud storage apps for photos, music, and documents are also included, but they seem mostly redundant given the tight integration between Windows 8, Office 2013, and SkyDrive. Still, I guess you can't blame Acer for trying.
One thing that did make using the Iconia W3 a little easier was the keyboard/stand accessory that came along with my review model. I say "stand" because it's hardly a dock – it provides no AC power pass-through and doesn't plug into the tablet in any way. It just provides a little cradle stand into which the W3 fits comfortably.
The keyboard itself is a bog-standard Bluetooth affair with the usual complement of Windows keys and no touchpad or other pointing device. It runs on two AAA batteries, so you'll want to remember to carry an extra pair in your travel bag along with the W3's dedicated AC adapter.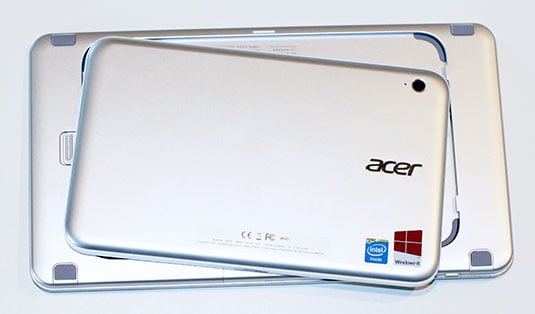 The optional keyboard doubles as a carrying case, but a clamshell design might have been nicer
If anything, the keyboard's build quality feels even a little worse than that of the tablet itself. It does include one neat feature, however: a concave back that allows you to snap the tablet into it to protect the screen during transit. There's nothing to protect the keyboard itself, though, as the keys are left exposed on the other side.
The Reg verdict
Overall, the Acer Iconia W3 is a respectable little machine that offers a lot of computing power in a small package. While Acer has hobbled its potential somewhat by cutting corners in its manufacture, I was able to use it for all my light computing work while traveling recently, including some work for which a phone would have been inadequate.
Unfortunately, many of the W3's problems relate not so much to the hardware as to the fact that it runs an OS that's still best suited to desktop PCs and devices with larger touchscreens. Windows 8's tablet experience simply isn't as smooth and natural as the experience on iOS or Android devices, and its problems only worsen when it's running on a small device with specs outside its original purview.
Incidentally, installing the Windows 8.1 Preview didn't do much to smooth the bumpy ride, either. About the only significant UI improvements in 8.1 from a tablet perspective are the improved onscreen keyboard and the ability to view two Windows Store apps onscreen at once. (Stock Windows 8 only allows one app onscreen at a time on small displays, and Windows 8.1 may revert to this behavior by the time it ships.)
As a small device for watching movies, reading ebooks, and the like, the W3 will probably do fine (though I was concerned about its spotty Flash video performance). But there are plenty of other options available if media consumption is all you want a tablet for.
On the other hand, it wasn't so long ago that ultra-mobile PCs (UMPCs) running full Windows were retailing for $1,200 or even more. If you've ever been in the market for a highly portable device that packs the full power of Windows, then Acer's price tag of $379.99 (£280/€329) for the 32GB Iconia W3 or $429.99 (£324/€379) for the 64GB version should turn your head.
And the Acer Iconia W3 is only the first such device to hit the market. As other vendors follow suit, it will be interesting to see if they can produce small Windows 8 devices that feel a little more high-end than what Acer has delivered.
But even if they do, most users will probably find Windows 8 simply too frustrating on a tiny screen for such small devices to reach a mass audience. If Microsoft is hoping that smaller displays would reverse Windows' fortunes in the tablet market, I strongly suspect it's in for another disappointment. ®