Apple MacBook Air 11-inch 2013: Netbook with next-gen tech
Cupertino's ultraportable continues to shine thanks to Intel's Haswell chip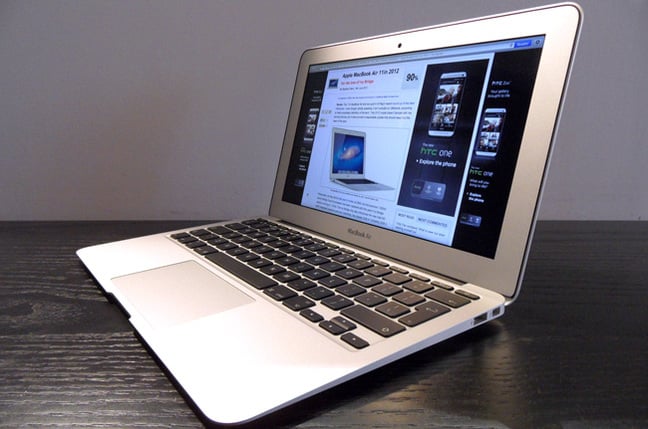 Review "Can't innovate any more, my ass," said Apple veep Phil Schiller as he unveiled the redesigned Mac Pro at the company's Worldwide Developer Conference in June.
The smooth, black cylindrical design of the Mac Pro and the visual revamp of the forthcoming iOS 7 were clearly intended as a riposte to the critics who had argued that the company had lost its mojo since the death of co-founder Steve Jobs.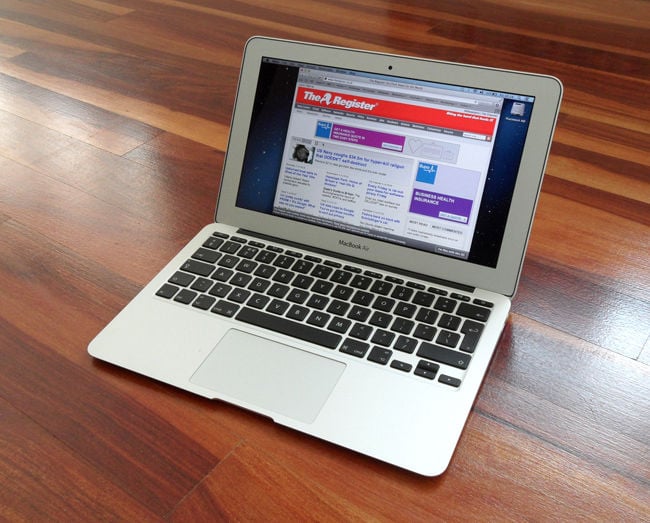 Apple's MacBook Air 11-inch 2013 ... netbook survivor
There were, however, rather fewer signs of innovation in the updated MacBook Air slimline laptop that was also announced at the same time as the new Pro. In fact, the innovation there came not from Apple but from its chip supplier Intel in the form of its new fourth-generation Core i processor, Haswell.
The first of the new MacBook Airs I was were able to get my hands on was the 11-inch version, which is virtually identical to its recent predecessors. In fact, the only visual give-away is the addition of a tiny second microphone on the left-hand edge of the machine which helps with noise-reduction during FaceTime and Skype sessions. You'll want to check out Bob's write-up of the 13-inch MacBook Air if you want to know more about how the two mics work together.

Two mic pick-ups for better noise elimination
Of course, the design of the MacBook Air was impressive to start off with. Its slimline styling, tapering smoothly from back to front, set the standard for the modern Ultrabook even before Intel's marketing department got around to inventing the term. The 1.08kg weight and 17mm thickness of the 11-inch Air are no longer unique, but the "unibody" aluminium case remains impeccably smart. It's a delight to pick up this model in one hand and just admire the design and build quality.
The real changes are on the inside this time around. As well as the Haswell processor, Apple has opted for low-power 1600MHz DDR3 memory and a new flash storage sub-system that it claims is 45 per cent faster than the one used in previous Airs. The end result is improved performance and – more importantly – significantly longer battery life.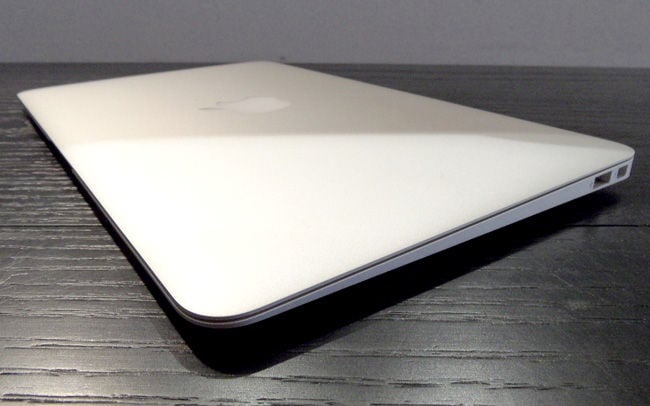 Nothing but USB 3.0 and Thunderbolt on the other side
The starting price for the 11-inch model hasn't changed, setting you back £849 for one with 4GB of memory. However, the measly 64GB of flash storage on last year's model has been doubled to 128GB, and the built-in Wi-Fi has been updated to 802.11ac. It provides a significant performance improvement over 802.11n, as I found when I reviewed the new Time Capsule base-station.
I was, however, surprised to discover that the dual-core Haswell Core i5-4250U runs at just 1.3GHz, whereas last year's Ivy Bridge model was clocked at 1.7GHz.
Geekbench benchmark results

Longer bars are better
Hats off to Intel, though: a quick benchmark run with GeekBench in 64-bit mode produced a score of 6809, rather more than the 5790 I recorded for last year's model. So the Haswell processor certainly doesn't disappoint even at just 1.3GHz. There's an option to upgrade the MacBook Air to a dual-core i7 running at 1.7GHz for another £120, but this basic 1.3GHz model felt smooth and responsive during my time with it, and more than adequate for web browsing or running Microsoft Office and such.
The improved flash storage - a PCI Express-connected drive, aka SATA Express - helps here too, adding a noticeable snap to many tasks. The Air boots in ten seconds and wakes from sleep as soon as you open the lid. And Apple was pretty close with that 45 per cent performance improvement estimate: duplicating my 25GB iTunes library took just 117 seconds, compared to 175 seconds on last year's model.
Sponsored: RAID: End of an era?