Original URL: https://www.theregister.co.uk/2011/10/24/students_renovate_rendering_process_for_synthetic_objects/
Boffins insert 3D objects into any old photo... realistically
Students renovate rendering process
Posted in Personal Tech, 24th October 2011 10:34 GMT
Researchers have lit up the world of 3D design with a new method for inserting computer-generated objects into a photograph in a way that makes the CGI renders seem part of the original snap.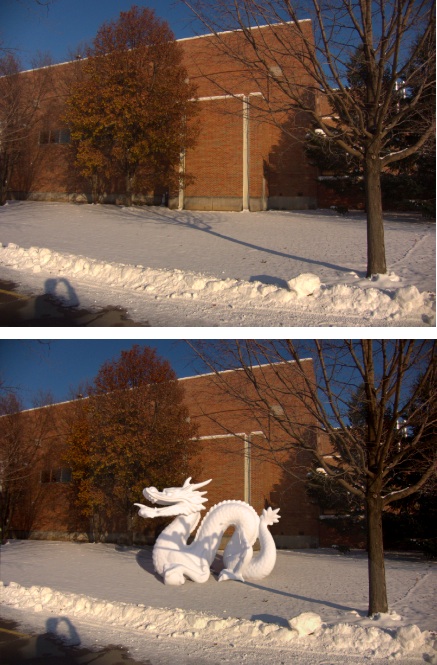 Source: Kevin Karsch and co.
Kevin Karsch, Varsha Hedau, David Forsyth and Derek Hoiem, all students from the University of Illinois, have come up with a method that maps the lighting characteristics of any photo and applies it to a 3D model that is to be composited into the shot.
You can add any item, even "objects with diffuse, specular and... glowing materials". The system correctly mixes the object's own lighting with that of its photo-sourced environment.
It also deals with complex shadows already present within in the scene, and ensures the objects themselves correctly cast shadows.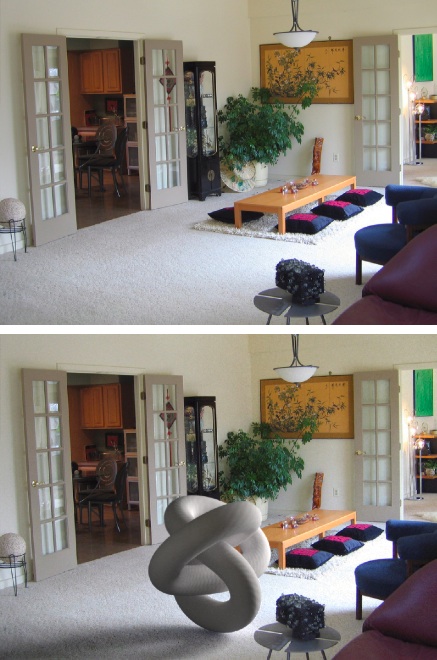 Source: Kevin Karsch and co.
The group claims its method doesn't require extra information about the scene into which the object is to be place than other such insertion methods do.
The technique would have applications in the movie and gaming industry, as well as home decoration and user content creation, they say.
Have a ganders at the video below for further details:
The students will present their research, titled Rendering synthetic objects into legacy lhotographs at SIGGRAPH Asia 2011 in Hong Kong this December. ®