Virtual and real worlds collide in gamers' minds
Boss levels... with the boss?
Some gamers are so absorbed by their virtual arenas, that even when they have come back to reality, they continue to act like they're in a videogame, new research suggests.
An initial investigation of this so-called Game Transfer Phenomenon, carried out by psychologists at the Nottingham Trent University and Stockholm University, centred on interviews with 42 gamers aged between 15 and 21 all of whom claimed to have either dealt with real-world problems by reaching for a joystick, or to have seen game graphics in the real world.
Think Scott Pilgrim vs The World.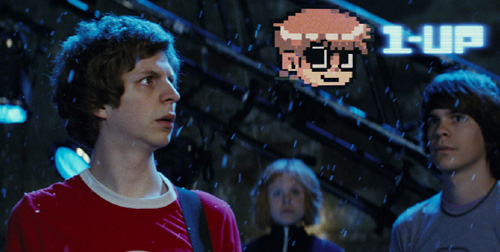 Angelica Ortiz de Gortari and Professor Mark Griffiths from Nottingham Trent University's International Gaming Research Unit, and Stockholm University's Professor Karin Aronsson, catalogue such experiences in their paper, Game Transfer Phenomena in Video Game Playing.
One gamer claimed to have witnessed the appearance of a graphical menu of topics available for him to think about. Another player saw a list of potential responses pop up after he was insulted.
A third interviewee said he found himself reaching for the R2 button on a controller to retrieve a sandwich after dropping it on the floor. A fourth participant reported seeing a maths equation appearing in a bubble above a teacher's head and health bars hovered over players from a rival football team.
Not that all cases were so extreme. Prof Griffiths said: "Almost all the players reported some type of GTP but in different ways and with varying degrees of intensity."
The researchers conclude that "players experience intrusion in their cognitive processing and learn from videogames to react and perceive things in real-life, at least for a few seconds, in ways informed by virtual life."
The full report will be published in the next issue of the International Journal of Cyber Behaviour, Psychology and Learning. The researchers are already preparing a second study that will involve the participation of a much larger numbers in an attempt to see just how widespread GTP is. ®
COMMENTS
If Pacman had affected my generation
We'd be stumbling around darkened rooms, popping pills and listening to repetitive electronic music.
What a maroon
Did you point out to him that it wasn't necessary to physically pick up a health pack? All he needed to do was walk over it!
"I never even contemplated hitting someone in the face with a frying pan"
Never? I can rarely watch the news without contemplating it at least once.
Oh no!
What's this? People using their imagination? This must be stopped immediately!
similar effect under sleep deprivation
When I was about 13 or 14 in the mid 80s, and spending a lot of time hacking around on the CP/M-based RM380Zs at school, I was woken early one morning in a very bleary and half-awake-half-asleep (pretty much semi-delirious) state by my cat meowing at me to be fed. I remember saying "Hello" to the cat, and thinking to myself "Ah, he doesn't recognize 'hello' as a built-in command, so he'll be looking to see if it's the name of a command file on the floppy disk"...... It took me a few seconds and the follow-on thought "Wait a minute, how would I change the floppy if it's on a different disk" before the cognitive dissonance woke me up enough to realise I was thinking nonsense from a different context.