Game graphics could be 100,000 times better
Polygon count becomes atomic number
An Australian company claims to have developed technology to make computer game graphics "100,000 times better" than current-gen systems.
Euclideon says its "Unlimited Detail" engine offers infinite geometry "makes everything out of tiny little atoms instead of flat panels". 'Atoms', it would seem is Euclideon-speak for these converted faces. The application of this technique with point-cloud data can pack up to 15 million converted polygons in each square metre of game space.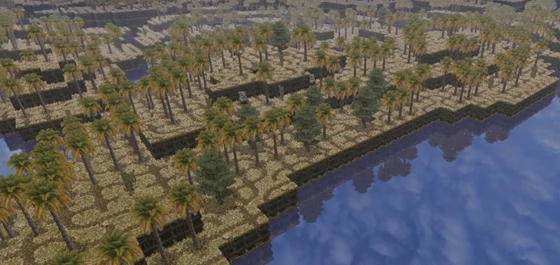 The tech was first talked of last year but the company went silent afterwards, prompting industry assumptions that it had all been a joke.
As it stands, traditional 3D rendering is all about the poly-count, with the number of polygons implemented increasing at a rate of roughly 25 per cent a year. Upping the polygon count comes at the cost of process power, though, and graphics hardware can struggle to keep up.
"We increased it so far that we could abandon polygons altogether and move to little atoms, and run them in unlimited quantities. If what we've said is true, then it is the largest breakthrough since 3D graphics began." said CEO Bruce Robert Dell, his caution casting doubt upon his optimistic claims.
Either way, check out the video below in which Dell explains more and shows off some stunning visuals despite only being rendered at 20 frames per second.
"We've made a little island," Dell explains. "The island is 1 kilometre squared. This island is made from 21,062,352,435,000 polygons."
Those polygons are then converted to point cloud data at a rate of 64 'atoms' per cubic millimetre. This allows Euclideon to demonstrate a level of detail so high, that floors are made from individual grains of dirt.
Dell also bigs up the company's 'polygon converter' which makes the design process easier so that "it's pretty much business as usual for the artist". The big difference is the designer has no need to worry that too many polygons will affect performance.
Euclideon plans to launch an SDK "some months from now", but will it really be the largest breakthrough since 3D graphics began?
id Software's John Carmack reckons there's no chance Euclideon will run on current-gen systems, but has the potential to "several years from now".
Let us know what you think. ®
Sponsored: Minds Mastering Machines - Call for papers now open