Original URL: https://www.theregister.co.uk/2009/11/19/google_earth_for_iphone/
Google remaps Earth for iPhone
Turn-by-turn (mis-)directions
Posted in Policy, 19th November 2009 08:02 GMT
Review Google has released a major update to its Google Earth iPhone app, boosting it a full point to 2.0.
Let's hope, however, that a version 2.0.1 will soon squash the bugs we dug up when we loaded the new Google Earth onto our iPhone 3GS and took it for a spin.
On the plus side, version 2.0 contains all of the fun and functionality of the original. The bad news is that its new marquee feature - integration with Google's browser-based My Maps customization capabilities - is infuriating to use. Occasionally, it even displays incorrect routes.
In version 2.0, you can still fly around and spy upon large chunks of the known world as you could in the earlier version. According to Google, the new version now makes half the world's population and a third of the world's land mass available for your perusal.
Speaking of internationalism, the app now supports 27 of the 30 languages supported by the iPhone - and no, we don't know which three are missing, seeing as how our knowledge of non-western alphabets is sorely lacking.
Google also claims improved performance in version 2.0, and on our iPhone 3GS it's suitably smooth and snappy - but we had few complaints about the performance of version 1.0. The Autotilt feature, however, which allows you to tilt your iPhone to view the horizon, remains a jumpy gimmick.
You can still use Google Earth to pinpoint your position using the iPhone's location-awareness capabilities - either by cellphone tower triangulation or by GPS. In our comparison of the original and version 2.0, the app's abilities to find us were identical.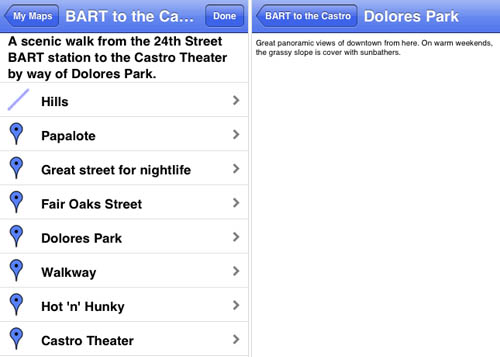 Your custom map's elements are readable (left) but details about each are squintingly tiny
The New Hotness in version 2.0 is, as mentioned above, is compatibility with the My Maps feature of Google Maps. Sadly, using this capability - if not a total bust - was a painful experience both when building a custom map using Google's browser-based My Maps tool and when viewing the resulting maps on the iPhone.
The idea of a personally created My Map map is a good one: You can use Google's online map collection to create a route, mark it with signposts, add photos and videos, and dress it all up with fancy icons.
In our experience, however, creating such a map was an exercise in frustration. When using the drawing tools to mark out a path not assisted by the roads on Google-supplied roadmaps, the tool had a mind of its own, placing the path to the right or left or where we wanted it to be.
Using the tool designed to create a path that ran along a map's roads, however, was even worse. Most of our efforts resulted in the browser-based tool inconsistently and infuriatingly deciding to send us on another route entirely.
Well, it's free
Sometimes, the tool's route choices were forgivable, such as when we attempted to create a walker's map that went the wrong direction down a one-way street - as near as we could figure, walking is a no-no. Other times the routes chosen by the My Maps builder were wacky in the extreme, with little or no rhyme or reason. In addition, trying to correct mistakes was far from intuitive - or, at times, impossible, as far as we could determine.
After repeated tries, we finally managed to create (carefully, carefully, carefully) a decent route. Loading it onto the iPhone was a blessedly painless experience: just quit Google Earth for iPhone, relaunch it, and your new My Map is waiting for you.
However, when we opened up our first reasonably routed map in Google Earth, we were disappointed to discover that what looked just fine in both Safari and Firefox was a mess in Google Earth for the iPhone. Some streets were skipped entirely, and our route had us climbing through San Francisco backyards on our way to the Castro Theater.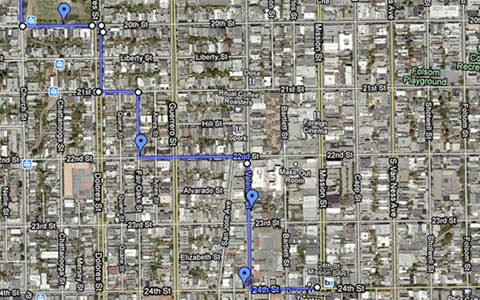 When viewed in Google Maps in Safari, our custom map had a rational route...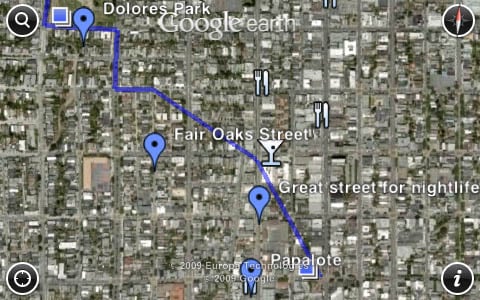 ...but when viewed in Google Earth 2.0 for iPhone, we were asked to climb through backyards
We tried other routes, as well, with mixed success. The most accurate way to describe version 2.0's support for the My Maps feature would be "spotty."
Google Earth version 2.0 takes the goodness of its original version, marries it with the infuriating interface of its browser-based My Map custom-map creation tool, and then occasionally incorrectly displays your custom maps after you transfer them to your iPhone.
If you don't need custom maps, Google Earth 2.0 is fine and dandy - and, hey, it's free. But if you want to create and share your own map routes, wait until a bug-fixing version 2.0.1. ®