GPS alarm seems alarmingly useless
You're safe with me. Unless stuff crashes
The Freedom Personal Safety is a GPS device that's supposed to alert loved ones that you're in trouble, but actually seems about as trustworthy as the only other man in the train carriage who appears to have moved a seat closer to you every time you look.
The product will set you back £79.95, but comes in a nice yellow box which promises "Peace of mind in your pocket".
The idea is that just sliding the switch on the side of the key-fob-sized device immediately alerts your chosen contact. But it can only do that if you're running the appropriate application on your smartphone, which needs to be within ten meters, and not have been crashed by the application itself.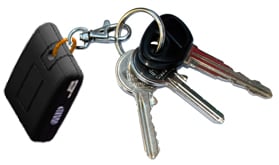 To be fair we only had a couple of crashes, though even one would be too many on an application that promises to improve safety. Even more worryingly we didn't manage to get a successful alert sent out even when the application was running fine, which makes us glad it wasn't a real emergency.
If it had been a real emergency we'd probably have phoned someone, on our smartphone. That might take too long, though, so perhaps we'd have installed GPS.SOS, a $20 application for Windows Phones that not only sends out GPS details but also switches our handset to auto-answer in case we're too busy fighting off attackers to respond to a call.
Freedom argues that its device can be operated without looking and from within a pocket, and is hard to set off accidentally. All of this is true, but seems a minor point when set against the need to keep the thing charged as well as ensuring the host application is running on a Windows Phone, BlackBerry or Symbian handset, all the time. The company also tells us their GPS is much more sensitive, which is also probably true given the cheap GPS components thrown into most smartphones.
Freedom Personal Safety also provides a polling function; if the application is running then a suitably-formatted SMS message from the right contact will elicit a location-based response. It's possible one might be able to convince one's significant other or children to install the software, though again it's hard to imagine that an on-device application wouldn't do the same thing for less money.
But perhaps we're being too closed-minded about the possible applications for the Freedom Personal Safety. If you can think of a better use for it then do let us know. ®
Sponsored: Minds Mastering Machines - Call for papers now open