Original URL: https://www.theregister.co.uk/2008/08/01/wii_holographic_storage/
Holographic Wii storage en route?
Patent application points to holographic storage for the Wii
Posted in Storage, 1st August 2008 11:14 GMT
Nintendo has already admitted that the Wii has a storage-related "issue". But a patent application's revealed that the firm could be considering a futuristic storage format as a solution to the problem.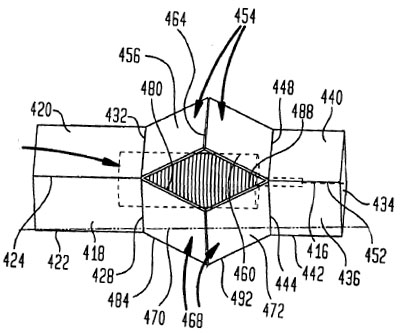 A drawing from the holographic storage patent
An application to patent "Miniature flexure based scanners for angle multiplexing" has been filed by the company, and it makes numerous references to holographic storage.
Holographic storage records data throughout the entire volume of a storage medium, whereas magnetic and optical storage records data onto the surface of the medium.
The futuristic format has several advantages, including the ability to store data at a much faster rate than existing technologies. A more detailed analysis is available here.
Nintendo's patent application background information mentions "a device comprising a spatial flexure for a scanner used in angle multiplexing of holographic data," in addition to "a spatial flexure scanner for use in angle multiplexing of holographic data".
It's worth noting that Inphase Technologies, a manufacturer specialising in holographic storage, is also named as an application assignee alongside Nintendo.
Although the application makes no reference to the Wii, or to a games console, Nintendo's inclusion has been enough to spark speculation that holographic storage is being considered as a way to bring greater storage capacity to the console.
However, it's also worth noting that holographic storage is still extremely expensive, in its current forms, and building it into the Wii will definitely push the console's cost well beyond £180 (€230/$355).