Sony Ericsson's Nunchuck mobile
World's first mobile with a handheld joystick?
Playing videogames on your mobile could soon become lots more user-friendly, because Sony Ericsson (SE) is to bundle a Wii Nunchuck-esque controller with an upcoming handset.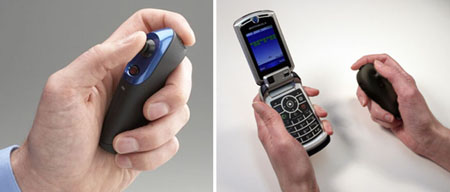 Zeemote's Jsi 'Nunchuck' controls games on Sony Ericsson's W760i phone
SE will launch the W760i later this year, but it'll be the first to feature Zeemote's Jsi Bluetooth controller that, well, really, really looks like a Wii's Nunchuck. It has a small thumbstick and four assignable trigger buttons, which will hopefully add a new dimension to mobile-based gaming.
W760i owners use the Jsi to control games on the phone's screen. Two Zeemote enabled games come pre-installed on the talker, but a further 14 are available to download.
The downside is that you'll have to carry the "ergonomically design" controller around with you and try your best not to lose it. But, on the plus side, it only weighs 47g and measures a palm-friendly 95 x 35 x 20mm.
SE will bundle the Jsi with its W760i phone in the Netherlands between early August and late October. A UK launch hasn't been mentioned.
Sponsored: Minds Mastering Machines - Call for papers now open