INSIDE GCHQ: Welcome to Cheltenham's cottage industry
'If this nerve centre didn't exist, neither would I' says Reg man
The great British code warriors
Now established for more than six decades in Cheltenham, GCHQ has origins that go much further back. The Government Code and Cypher School (GC&CS) was formed in 1919 after World War I, its role being to assess security and coding methods within the government and develop improvements. Well, that's what the man in the street would be told: its other function was to analyse the communications systems Johnny Foreigner was using. Hence, GCHQ, as it became known in 1946, has since been regarded as a "listening station". It's not the only one, but it is the most well-known in the UK.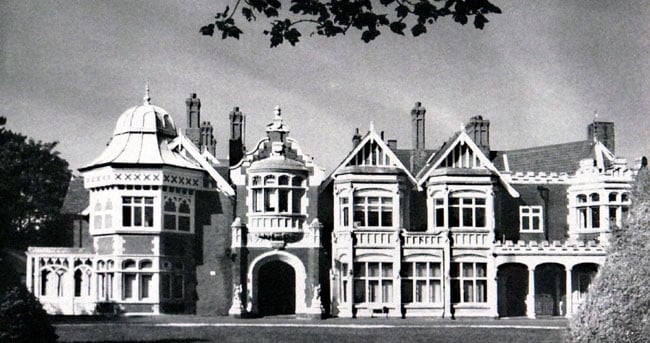 The eternally unassuming Bletchley Park
Originally based in London, the bulk of GC&CS relocated to Bletchley Park in August 1939, later moving to Eastcote in 1946 where there was an established GC&CS site with "analytic machinery" – the term "computer" had yet to catch on. Even though the wartime peak of 10,000 staff had now reduced to a few thousand, Eastcote wasn't in very good shape, was cramped and couldn't be expanded. Moreover, keeping it close to London – with the idea of a rapid redeployment farther afield if the threat of war loomed – was no longer practical. The cipher and communications technology now in use didn't take too kindly to being moved and, with the various preparations involved, could take up to 6 months to reinstal elsewhere.
Eastcote was too close to the capital and a suitable site that could function during times of war and peace became the new strategic focus. When the move finally came, the Eastcote facility transferred to Oakley in 1952. Benhall was earmarked for a consolidation of various radio stations a year earlier, but this was cancelled due to a number of concerns regarding space for the aerials and interference from nearby civil aviation communications sites at Elkstone and Winstone.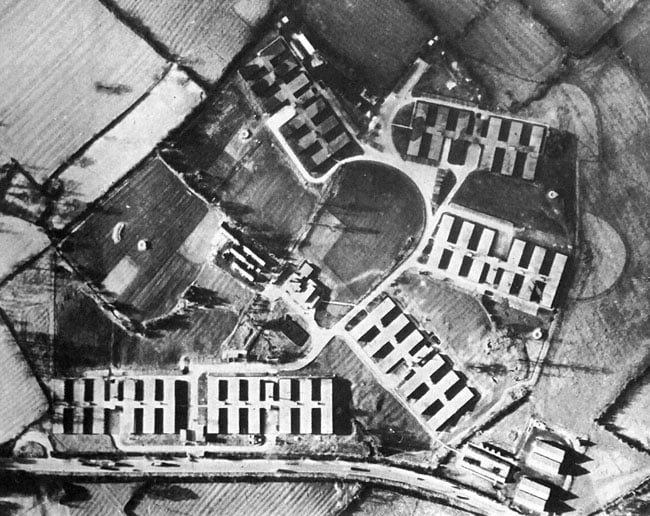 Benhall site from 1945: those temporary office blocks hung around for 60 years
Even so, Benhall was established as a technical facility aided by its various workshops. In 1956, the Joint Speech Research Unit (JSRU) was formed in Eastcote but eventually set up home at Benhall in 1978. This lodger unit produced rafts of papers on speech synthesis and analysis. It joined up with the Royal Signals and Radar Establishment in 1986 to become the Speech Research Unit only later to be privatised in 1999. It is now called Aurix, owned by Avaya. Incidentally, the Speech Research Unit should not be confused with the Joint Technical Language Service (JLTS) that, if the ageing sign is anything to go by, is possibly still in residence at Oakley and undertakes a different role, focussing on translation and interpreting services.
Remember those temporary office blocks built in the 1940s? This implicit impermanence became a standing joke on both sites as each decade passed and they were still there. In fact, a few remain at what's left of Oakley and would be entitled a Civil Service pension now.
I was installed in one of these for a time, which was set up for experiments on magnetic tape, in varying conditions of humidity and temperature. The makeshift lab was nicknamed the "steam room" and I sat there, mostly on my own, creating environments in a chamber with water boiling away to supply the moisture and occasional blasts of CO2 used to control the temperature. I'd monitor the results on a chart recorder and then type in a rather long-winded formula into a Honeywell scientific calculator to make some sense of it all.
You might wonder what on Earth this had to do with the work of a listening station. In short, back then, a lot of tape recorders were used in various remote listening posts, and the idea behind this experiment was to discover what tape formulations worked best in different environments.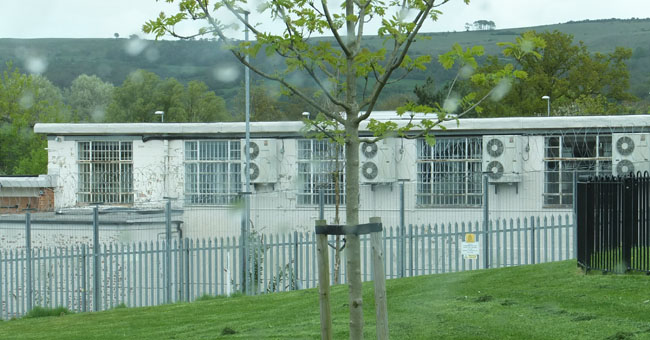 Temporary office blocks still exist in what remains of the Oakley site
The block itself was pretty sparse, with aged everlasting linoleum flooring, big cast-iron radiators and draughty single-glazed windows. It would have been nice to have had a radio in there, but bringing in a tranny (that's a transistor radio) from outside wasn't permitted although sophisticated wireless equipment existed in abundance in other designated areas. Personal tape recorders and cameras weren't allowed, and you had to call in the official photographer to document any setups you felt deserved a snap. I'd be interested to know how the organisation deals with the abundance of smartphones today. Are they banned or is the place more trusting now, I wonder?
A little bit of Oakley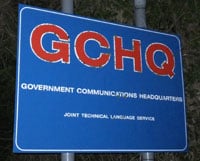 While Benhall is just a bus journey away these days, if you're keen to see the last remnants of Oakley, then you can either wend your way through the new housing estate or take a peek over a field from Aggs Hill. The latter is more of a challenge but can be made into an interesting diversion if you're a fitness fanatic or just fancy an easy way to get to the top of Cleeve Hill by car and admire the view along with the three aerial masts that can be clearly seen from the town.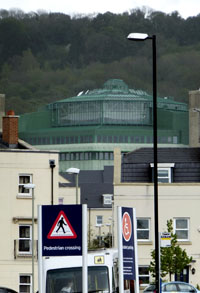 Hillside retreat: Oakley from Prior's Road
is mostly houses and a Sainbury's car park
If you've already done the housing estate Oakley drive-by, then the simplest way to get to Aggs Hill is to travel up Harp Hill where you'll be on the periphery of Cheltenham's most exclusive housing stock in Battledown. If you're a Tour de France enthusiast, cycling up Harp Hill should be a breeze, but the gradient of Aggs Hill is tough. Just keep going to the crossroads sign for Cleeve Common only. When you get to the end of the road you'll be under three sizeable antenna masts serviced by Arqiva, and you can stroll onto Cleeve Common – dog owners, keep an eye out for sheep.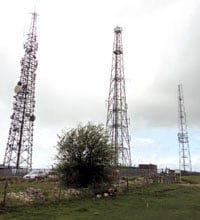 Cleeve Hill aerial masts: Arqiva site 36223
GPS: 51.921694, -2.010261
The splendour of the Cotswolds notwithstanding, if you did bike it this far, the real reward is whizzing back down Aggs Hill at a frightening rate with a nod to the remaining Oakley site entrance as you corner at the bottom... or hit the Hewletts Reservoir wall. The fun's not over; there's Harp Hill left to descend – there used to be a hospital at the bottom, but not any more, so take care. If you're still feeling sporty, or fancy a brew with a view, then The Rising Sun Hotel on Cleeve Hill is worth a visit. Alas, the High Roost Hotel on the same stretch closed in 2003 which was incidentally a US Army hospital during WW2. Oh, and don't forget, Cleeve Hill has a golf course too, which, for a fee, anyone can get their balls out and whack them off among the sheep.
Buy the GCHQ Gloucestershire guide here: