INSIDE GCHQ: Welcome to Cheltenham's cottage industry
'If this nerve centre didn't exist, neither would I' says Reg man
Untold stories
While the mindset of secrecy is encouraged with good reason, it does have its drawbacks for those with ambition. I recall a few jaded souls who had stayed so long that, despite having exceptional talent, would find it difficult to leave because they couldn't tell a future employer on the outside what they'd been up to. So unless they could find a government job posting elsewhere, they were destined to remain residents of Hotel Gloucestershire: you can check out any time you like, but you can never leave.
On the other hand, high-flyers fresh from university would find they had an opportunity to shine given the brain-tingling tasks they had to tackle and the resources at their disposal. Don't be shy of working there if you have the skills, but you might want to keep an eye on the calendar unless you're planning on being a lifer.
That being so, the secretive side of things can begin to seep into your thinking. Who's watching you? Surely, somebody must be from time to time as a routine security measure so you don't end up becoming vulnerable financially or in other ways.
"My, that codecracker Jenkin's is a lucky chap, he's nearing retirement and that gorgeous 19-year-old Chinese girl he met at the bus stop has totally fallen for him. Who'd have thought it?"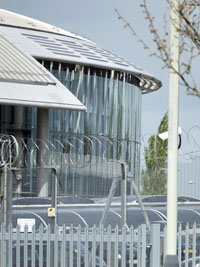 Just how closely you are monitored can tease the imagination. On this point, my Dad would joke about voting Communist to see just how secret the secret ballot was. I don't suppose he ever put it to the test, but if you work there and feel lucky when the next election comes around, why not give it a shot?
Working there affected my thinking too, as it's only in recent years that I've stopped dreaming about returning to the place to embrace the technological challenges and achieve great things. Yes, I would finally have a crack at Star Trek and get to the Emeritus level, if only I could find a PDP-11 handy. Still, I picked up useful transferable skills there, as fault tracing combined with being a dab hand with soldering iron worked out very well when I found myself in London working in recording studios.
Naturally enough, the establishment has moved with the times. The intense efforts to monitor Cold War threats have largely given way to focus on the terrorism and cyber-security issues of today, as highlighted on the GCHQ website. Whatever you think about the secrecy of the place, the intelligence services endeavour to keep us safe. It was a motivating force for those who'd experienced WW2 and went on to take jobs at GCHQ so this country wouldn't experience anything like that again.
I've no doubt it's a commitment that continues to this day: so far, so good. ®
GPS
51.898835, -2.120497
Post code
GL51 0EX
Getting there
A40 Cheltenham
Other resources
Buy the GCHQ Gloucestershire guide here: