INSIDE GCHQ: Welcome to Cheltenham's cottage industry
'If this nerve centre didn't exist, neither would I' says Reg man
Down the tubes
When I worked at Benhall, which in the heyday of the two Cheltenham sites was focused on R&D – the job titles tended to be variants of scientific officer, technician (radio repairman) and radio operator. Being there also meant I spent most of my time in the new-ish 1970s building. The eternally dodgy lifts had bright puce panelling that was so intense you couldn't wait to get out, and some days you'd hear bagpipes playing in the quadrangle at lunchtime. This was no state occasion, just some chap engaged in windbag practice – optional for civil servants.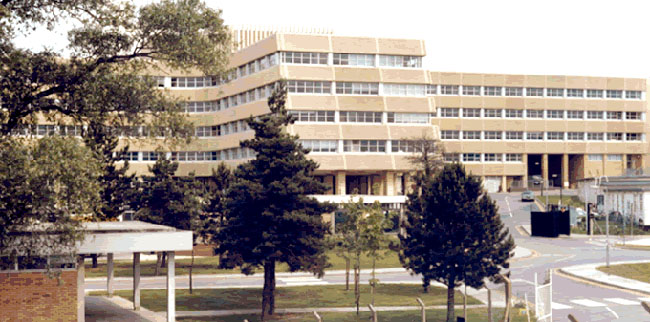 GCHQ Benhall 1970s style: canteen (foreground left), archway for stores (background right)
The labs themselves were spacious and well-equipped. Being a junior grade, I learned how to use sophisticated test equipment there but didn't see the attraction of playing Star Trek on the lab's DEC PDP-11 during breaks. It seemed like a lot of typing was going on but not much else. I'd be more inclined to have a go at building a guitar effects pedal instead; "working on a foreigner" being the phrase used to describe any pet projects or domestic repairs undertaken on site.
Benhall had its own immense stores and on your first day in this high-tech community you'd go through the various catalogues – some on microfiche – to find the equipment you'd need to build up your toolkit. It felt like being in a sweetshop but you'd need a senior officer's signature to get it all and some gear would be serialised too, so it wouldn't go astray, even the bloody leather tool bag. Going to stores was often welcome respite from the hum of the lab as nobody ever turned off equipment and even the oscilloscopes would add to the fan noise.
Typically, the lab would have its own reserve of resistors, capacitors and various silicon chips, which would be routinely checked. You could even put in an order to the stores using the Lamson tubes that featured on every floor. We're talking of the days before email here, and so messages were sent in small capsules along a pipe using compressed air. I remember seeing these in department stores when I was still in short trousers and was amazed to find this technology hailing from Victorian era in such a sanctuary of tech.
What made matters worse was that some bright spark had decided to deploy a rectangular Lamson tube array. The thinking was that this would allow for larger payloads so you could get stores to send you back those resistors and capacitors using a Lamson tube. It would have been great if it wasn't for the fact the capsules were forever getting stuck. Circular objects in a round pipe: good. Rectangular objects in a flat sided duct: bad.
At about 10.15am and 3pm the official 15-minute tea break would be stirring into life. Some labs would have a proper sit-down in the corner while just a table and kettle would suffice for others. I remember once forgoing the usual chatter of current affairs and returning to my workbench with a cuppa during a break. The lab was now empty apart from me and then the Principal Scientific Officer (PSO) wandered in – the department's head honcho. He asked me where everyone was. I replied that they were having a "mass debate" in the tea room. He gave me a look of utter disgust and wandered off. It took a while for me to realise that I should have chosen my words more carefully, as even a communications expert misunderstood my mention of mass debating.
Surprising perhaps given the environment was equipped with Wayne Kerr knobs and tools aplenty.
Actually, the issue of misinterpretation reminds me of a situation my Dad described to me regarding context in intelligence gathering, which I'll come to in a moment. The late Steve Dormon spent a lifetime at Oakley; by comparison, I spent a lunchtime at Benhall. Oakley had different clerical and executive officer grades – fairly nondescript titles that veiled the true nature of the top-secret analysis many were involved in. While Benhall was all about hardware and technology, Oakley had admin and training at the front of the site, with beautiful minds working on intelligence analysis far from the madding crowd.
Doughnut, anyone?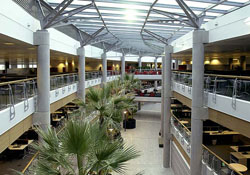 Benhall has changed beyond all recognition with all the temporary office blocks gone along with the 1970s-built multi-storey site that I knew. The environmentally friendly building was designed by
US architect Gensler
and is claimed to use 40 per cent less energy compared to conventional offices. The structure notches up 1.1m sq ft of space, is 182m in diameter, has 11,000 sq metres of aluminium roofing and 13,000 sq metres of glass.
Inside, there are cafés, bars plus a restaurant and a gym. An internal street is the hub of the site, joining up these facilities and the various departments. Being circular, you're no more than five minutes walk away from anyone in the building. In the basement you can get around quicker, as an electric goods train runs down there delivering stuff. An underground road handles more sensitive materials.
Other startling specs include the computer area that is said to be the size of the Royal Albert Hall. The doughnut frame used 250,000t of concrete, the electrical wiring covers 6,000 miles and BT laid 5,000 miles of cable and 1,850 miles of fibre. And to cap it all, the estimated total cost hit £1.2bn. Yet truth be told, the site is actually more interesting to view from aerial shots than from ground level, as it's bit like a frisbee on a lawn: there's not a lot to see unless you're on top of it.

Built for £337m using cash from the controversial Private Finance Initiative (PFI), it was the biggest project of its kind
With this in mind, I took a night-time trip up to the top of Leckhampton Hill hoping a telephoto shot of the site would reveal some twinkling Stargate SG-1 charm. Apart from being farther away than I'd thought, it turns out to be quite difficult to see at night. A cluster of street lights hints at its whereabouts, but the building itself seems to be dressed in stealth bomber clothing, as it's virtually invisible. Cool.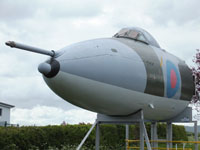 Grounded: Avro Vulcan B2 XM569 cockpit
A daytime pilgrimage is easy enough, as there are signposts everywhere. Finding the place is one thing, entering it is another – it's definitely members-only, having travelled the length of Hubble Road only to gaze upon the high-security car park. So, what next? Well, you could always go for a spot of flying at Gloucestershire Airport, Staverton on Bamfurlong Lane.
The airport used to be home to the beloved Skyfame Museum, but it has since expanded and become more of an aviation industry village. However, there is the revamped Jet Age Museum that has relocated to the north of the airfield – part of the Meteor Industrial Estate – and should be open to visitors later this summer. It's a shrine to early jet propulsion as the area is linked with the development of the Gloster Meteor – the first production jet aircraft based on Sir Frank Whittle's engine design.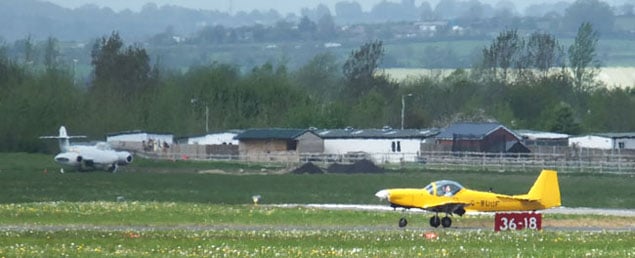 Sky drive: Gloucestershire Airport, Staverton
If that sounds all too exciting for you, The Aviator café and restaurant at the airport has a full menu of grub to suit kids, veggies and carnivores alike. More importantly, the bar serves Wadworth's 6X which might settle your nerves to consider taking flying lessons at the Flying Shack just down the road. You can't miss it as there's an Avro Vulcan B2 XM569 cockpit in the car park. Oh, and keep an eye out for the type FW3/26 WW2 pillbox on the roadside overlooking the airfield. But if terra firma and tinkering with cars is more your style, perhaps a trip to nearby Harry Buckland's scrapyard would suit? It's a local institution, having been going since 1935, so you never know what you might find there.
Buy the GCHQ Gloucestershire guide here: