Apple Mac OS X Server for Mountain Lion review
Playing god with an £14 app
DNS stress test
If you're just dabbling with Server rather than setting up a dedicated Mac for the task, there's one small ass-biting 'gotcha'. As standard, Server will set your Mac's DNS to 127.0.0.1, as you're now providing DNS to yourself as well as others. If you go back to using your test machine for regular work – and move Server to a dedicated Mac, as I did – your trusty sandbox will be left with no Internet access, which is unnerving to say the least. Hit up System Preferences > Network > Ethernet > Advanced > DNS and remove the numeric localhost entry. Making dumb mistakes so you don't have to – no need to thank me.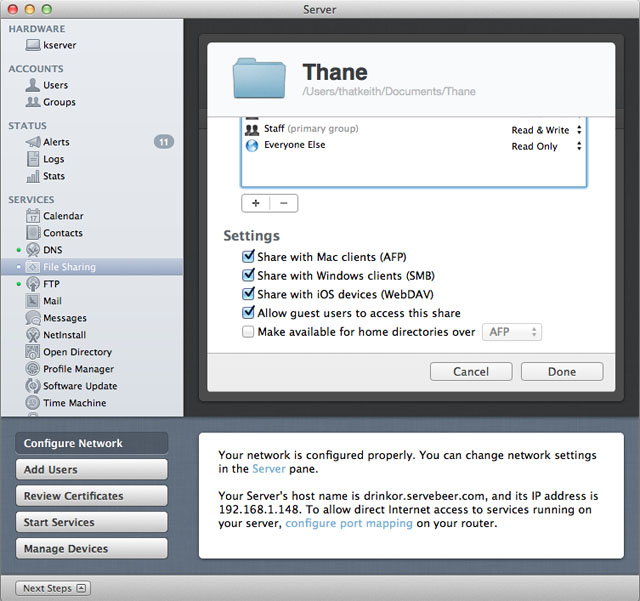 File sharing includes iOS support
File Sharing (also on by default) is an evergreen server standard that's been made simpler over the last two major Server versions. You get AFP (Apple Filing Protocol – preferred for Mac users) and SMB (Server Message Block – more common on Windows and Linux), and the option to host data on the same Mac or on some other server. Sharepoints can also be set up with WebDAV for iOS users, which is the biggest new trick up this feature's sleeve.
FTP is off by default, but if you need this somewhat antiquated service it's just a click away. Me, I prefer to steer clear of serving FTP in favour of more secure protocols, but it tests out fine. Mail services are also off by default, and if you're new to this level of functionality take some time out with the on-line documentation before diving into this.
For old hands, I'm pleased to report that Mountain Lion Server offers the simplest, clearest implementation of mail serving that I've seen. The server-managed Time Machine backups for Mac clients is a blessing too and I'd recommend activating this – end users can ever be relied upon to manage their backups.
Also available is web site serving with optional PHP goodness and, for the seriously depraved, Python support as well. I'm using the former but not the latter; I never moved onto anything more hardcore than PHP. Redirects take just a few clicks to set up, although the option to redirect when users visit a URL matching a specific regular expression stopped me cold. Regex is awesome voodoo that makes my head hurt, so I've stuck to my traditional URL path-based redirect triggers.
Wiki support isn't new, but it's almost ridiculously easy to get a collaborative workgroup wiki up and running. Team communication FTW! The Users and Groups administration section is self-explanatory, along with the Status functions that keeps data freaks well fed with access logs, stats and the like.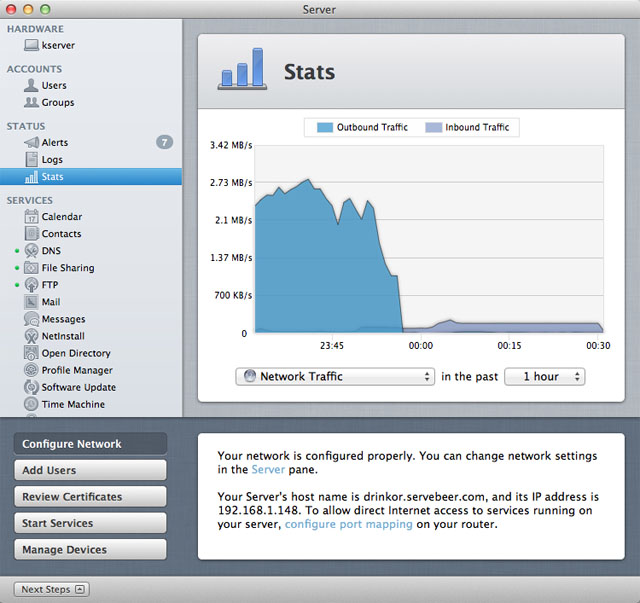 Mmmh, stats – yum yum...
Indeed, if you're like me, Server's Status section will give you enough feedback to keep you happy and help pin down possible problems. If you want more detail you'll have to turn to dedicated analytics logging and comparison tools – take a bow, Google Analytics – but this is a useful everyday overview of the server's performance.