Original URL: https://www.theregister.co.uk/2013/01/26/apple_loses_most_valuable_status/
Apple loses 'Most Valuable Company' honor to ExxonMobil
Mystery share dump pushes stock price down
Posted in Business, 26th January 2013 01:43 GMT
Apple lost its crown as the most valuable company in the world in terms of market capitalization on Friday, as the world's exchanges continue to downgrade its stock price.
Apple's stock price peaked in September at just over $700 per share, but has been falling steadily ever since. But in the last week, the world's exchanges have hammered the share price downwards, even after Apple released quarterly figures showing revenues were up 17.7 per cent year-on-year and its cash pile had increased 40 per cent to $137.1bn.
In the wake of this last set of hardly disastrous figures, Apple's share price has been falling. And at the close of markets on Friday its market capitalization dipped to around $416bn, $2bn less than oil-giant Exxon. The two companies had swapped top valuation honors during the day's trading, but a mysterious last-minute stock sale pushed Apple lower.
According to data analysis firm Nanex, Apple shares had a massive selling run just before the market closed, including one trade that dumped 800,000 Apple shares worth $350m onto the market at the end of the day.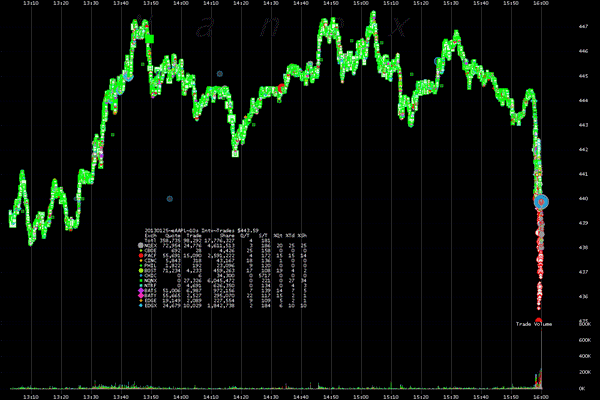 Stock market shenanigans
Apple's undisputed reign at the top of the stock market valuation tables appears to be over, and there'll be some schadenfreudic sniggering from opponents at Redmond over the collapse in Cupertino's share price. Microsoft, after all, managed to keep the world's most valuable crown for three years, while Apple managed it for less than half of that time.
Bootnote
As we clicked Publish on this article, Apple's share price was still flopping about below $450 during after-hours trading, and stood at $441 per share. That price bumps its market capitalization a wee bit above that of ExxonMobil – for the moment.
Tune in Monday, when the market decides whether it has spanked Apple sufficiently for its recent financial report. ®