Samsung posts RECORD profits, but execs drip cold sweat over 2013
Can't have a 75% profit spike every year, eh?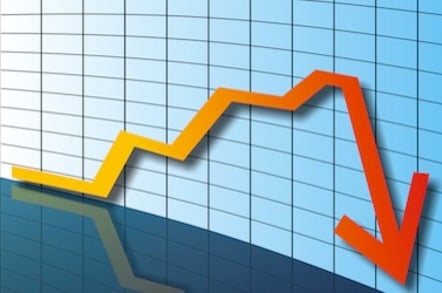 Samsung urged a note of caution for the future, despite announcing bumper profits for the last three months of 2012.
The two big drivers that powered the Korean super-manufacturer to record revenue of 56.06 trillion Korean won ($52.7bn, £33.3bn) at the end of 2012 are showing signs of decelerating. Samsung execs expect cooler markets and slower growth in 2013. Revenue was up 7 per cent on Q3 and up 19 percent on the same quarter the year before.
Samsung's net profit rose to 7.04 trillion won ($6.6bn, £4.2bn) - up a heady 75 per cent from 4.01 trillion won ($3.7bn, £2.4bn) in the same quarter a year earlier. Net profit was up 7 per cent from Q3.
Chips and smartphones were sectors where Samsung made a killing in the Christmas quarter. But these two big engines of Samsung's record Q4 2012 profits show signs of slowing down.
Profit pressures on chips and mobes
Chip and component sales showed pressure from the shrinking PC market, and it's expected that Samsung may lose one of its key contracts in the mobile and tablet market. Apple is expected to shift its contract for iPhone and iPad chips away from Samsung as rivalry between the two gets more intense.
In the mobile sector, Samsung has been rampantly successful and is by far the biggest manufacturer of smartphones in the world. But the explosive growth of the mobile and tablet market is expected to become more measured which means that returns in the sector will lessen.
The booming area for mobile is likely to be in emerging markets for low and mid-end products where profit margins are tighter.
A squeeze on profits from Samsung's mobile sector was already visible this quarter: though sales were up quarter on quarter - rising 4 per cent to 27.23 trillion won - operating profit was down. Operating profit fell 3.4 percent to 5.44 trillion won, compared to the three months before, showing that margins are already constricting in this sector.
Strong product mixes have kept Samsung afloat in even difficult areas of consumer electronics, such as LCD screens and consumer electronics. High-end fridges did well in the US; cheaper TVs did well in Africa; and LCD screens sold strongly in China. But while the company is in good health, Samsung is holding its total investments in 2013 steady at 2012 levels - a contrast to previous years where it ramped up spending, and a sign of caution about the year ahead. ®
Samsung [005930, Korean Stock Exchange] Q4 2012 results
Sponsored: Minds Mastering Machines - Call for papers now open