Original URL: https://www.theregister.co.uk/2012/03/23/more_retina_display_graphics_spied_in_mac_os_x/
More 'retina' display piccies spied within Mac OS X
Mountain Lion paving way for pixeltastic MacBooks?
Posted in Software, 23rd March 2012 16:10 GMT
Software hackers have been uncovering ultra-high resolution graphics in Apple OS updates for more than a year now, so it comes as no surprise that Ars Technica has found a few more, in the Mac OS X 10.8 Mountain Lion Developer Preview.
We'd like to add that the beta release of Apple's Messages app, currently available for Lion, contains numerous TIFF files pegged at 144dpi - double the 72dpi images found in Apple's regular releases, such as the most recent version of Safari.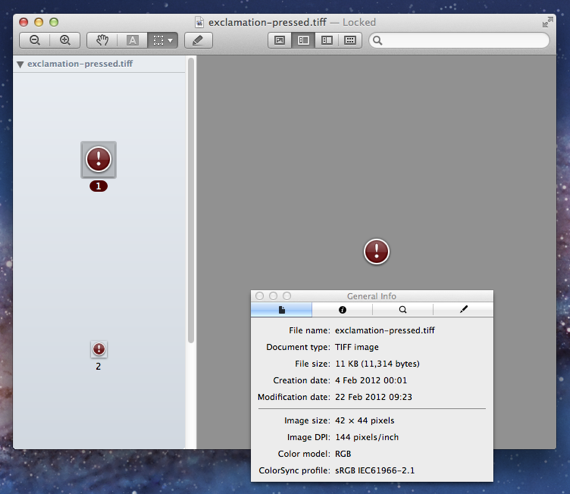 From the current Messages beta
Mountain Lion is due this summer, but a handful of double-size icons and graphics doesn't a MacBook with a "retina" display make.
Surely, if Mountain Lion were to spearhead the arrival of notebooks with 13.3in, 2560 x 1600 or 15.4in, 2880 x 1800 panels - four times the pixel count of today's MacBook Pros - most if not all of the graphics in the developer preview would be configured for so-called "HiDPI" display tech?
That said, iOS 5.1 had only a handful of "retina" display graphical elements until the release of the new iPad. Apple codes different versions of iOS for each iDevice, and so there was no need to encumber the release for the 960 x 640 iPhone 4S with 2048 x 1536 images. Likewise, different Macs don't always have the same build of the OS.
Rumours that Apple is preparing quadruple-pixel MacBooks have been doing the rounds since late last year. As Apple has shown with the iPhone and now the iPad, it will adopt higher dpi display as and when it's economically feasible to do so. Mountain Lion may not be the enabling release, but it's going to happen sooner or later.
Apple's Windows 8 spoiler, d'you think? ®