Original URL: https://www.theregister.co.uk/2011/12/06/actifio_series_c/
Cash-bloated startup takes on data protection giants
What the heck is going on at Actifio?
Posted in The Channel, 6th December 2011 13:58 GMT
Ash Ashutosh's Actifio startup has been flooded with cash by VCs - $59.5m since its founding in 2008 - to create a virtualised data protection and availability device. Is it on fire?
Actifio's PAS (Protection and Availability System) is a server running a distributed object filesystem, described as a Virtual Data Pipeline (VDP). PAS takes copies of changed blocks on a protected server and stores them on disk, including metadata with the data, using deduplication. These can be used to recreate data on demand to virtual points in time; Actifio says there is effectively a zero backup window.
The changed and deduced blocks can be sent across a network to a remote PAS system in a business continuity site and used for incremental restores. In both the source and remote sites users can instantly mount recovered data. Actifio says this means a zero restore window.
VDP has virtualised, Actifio says, "the core primitives of data management: copy, store, move and restore, and enables instant creation of virtual copies of point-in-time data from the collection of unique blocks of data".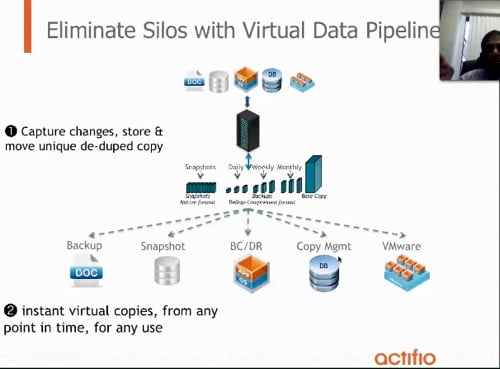 Actifio's single protection and availability virtualised silo.
It's great advantage is that multiple data silos for backup software, disaster recovery, business continuity and test and development tools, can be replaced by single PAS silos. These, deployed in each site or domain where data has to be managed, can also be used for search, compliance and analytics tools. The product is said to deliver application-centric and service-level agreement-driven data protection and availability.
Actifio says PAS "is a single, radically simple solution to efficiently manage all copies of production data for virtual, physical or cloud IT infrastructure for on-premise, hosted, hybrid or SaaS deployments of applications". Users can: "Protect and recover information instantly, with no more than 3-clicks at any location, for any application for any IT environment."
The PAS system replaces multiple other copies of data and reduces data protection and availability costs down to a tenth of what they were, according to Actifio's claims.
It all sounds almost too good to be true. Nevertheless early results have been so promising that Actifio's funding history shows a near VC frenzy to invest:
Mid-2009 - $4m of desired A-round of $8m;
First half of 2010 - remaining $4m
Second half of 2010 - $16m B-round
Dec 2011 - $33.5m C-round.
Taking on the giants
That is a pretty impressive amount and rate of funding for a firm which now has 100 employees. Make no mistake, Actifio is taking on the data protection, business continuity and disaster recovery giants. Symantec and EMC are firmly in Actifio's sights. This is no me-too, re-invent backup with a virtualisation and/or snapshot twist startup. It's far more ambitious than that.
Read what Ashutosh says: "Backup software as we know it is dead. Obsolete. With organisations virtualising servers in the data centre, it is time to revisit the arcane practices of backup, disaster recovery and business continuity."
A Mike Laverick video interview with Ashutosh in which he discusses the founding of Actifio and how its technology works can be seen here.
Some technology details
The PAS appliance is an X86 server that can scale up to an 8-server group supporting 8PB of storage. The appliances can be configured in redundant, fault-tolerant hardware. The appliances use both compression and deduplication for data storage.
A Storage Strategies Now report says:
System and application support falls into two categories - fully automated application integration and application and OS integration via the command line interface. Actifio currently provides fully automated support for VMware, Windows Server and Microsoft SQL Server. Command line support is provided for most major operating systems, including AIX, Solaris, Linux and VMS, major cloud gateways and Microsoft's Hyper-V virtualization platform. Support is also provided for major storage systems and SAN switches.
The PAS appliance supports FIbre Channel and iSCSI interfaces now. NAS and DAS interfaces are coming.
In the Laverick video, Ashutosh says that Actifio is not involved in selling storage. It captures information and stores it on vendor-neutral storage or in the cloud.

Actifio data capture methods
Is Actifio for real?
The funding history says the VCs are convinced. Case studies on Actifio's website say some users are convinced. Analyst reports (PDF) say analysts are convinced.
The Series-C release states: "The investment signals a rapid shift in the data management and backup industry, away from traditional point tools used for backup, disaster recovery, deduplication, and business continuity that increase overall cost and complexity, toward the radically simple approach Actifio's PAS platform represents."
Ashutosh says: "Over the past three years we've worked closely with our clients to help them drastically simplify their infrastructures and save millions of dollars by moving beyond their reliance on traditional point tools like backup software, replication, device-dependent snapshots, and others."
There's a big data angle to this, and the cloud too. Andreeson Horowitz general partner Peter Levine said: "By leveraging virtualisation to break down backup software, Actifio is actually helping enterprises solve the problems associated with trying to manage massive amounts of data."
Users will have, if Actifio has its way, a single production copy of data and a single silo for protecting that data and making it available for archive, restoration, business continuity, disaster recovery, compliance, search, test and development. It's breath-taking in the scale of its ambitious assault on the data protection software high-ground occupied by EMC, Symantec, IBM, and surrounded by myriad smaller data protection companies.
Actifio is saying, in effect, throw away Backup Exec, dump Tivoli, discard Net Backup, forget array replication, rip and replace the lot, the entire caboodle, with PAS. Wow! ®