Original URL: http://www.theregister.co.uk/2008/10/08/xm_25_judge_dredd_smartgun/
Judge Dredd smartshell shotguns to hit Iraq in '09
'XM-25' wireless airburst slugs hit round corners
Posted in Science, 8th October 2008 11:04 GMT
It's quite difficult to make guns - portable ones, anyway - convincingly hi-tech. Sure, you can add a laser sight, you can attach all kinds of crazy lights and optics, you can even have a boresight camera and helmet heads-up display for shooting round corners without sticking your neck out*. But at the end of the day it will still, basically, be a gun. Lumps of metal driven by expanding gas will fly out of the end at high speed, and make holes in things or people which they hit.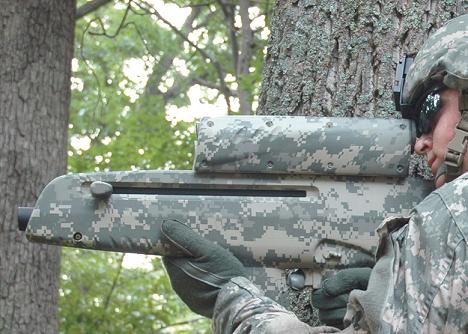 You'd better be hiding around two corners these days.
Judge Dredd, one of relatively few sci-fi gunmen to stick mainly with projectiles rather than moving to rayguns of some kind, does a bit better. Placing Justice Department boot to perp arse on the mean streets of Mega-City One, he uses implausibly reliable voice commandware to select different types of ammo for his Lawgiver pistol. In some of the stories he had extremely exotic rounds available, too - rubber ricochet bullets for tricky bank shots, high-explosive warheads, even infrared heat-seekers. But mostly it was just bullets.
That's generally how it's been in the real world, too. Most small-arms manufacturers reckon it's a good day if they can make a shoulder weapon which will shoot fairly ordinary bullets accurately and not need too much maintenance. Sometimes they can't manage even that. Generally speaking, even the most fashionably equipped soldiers and cops today are still armed with weapons which were on offer sixty years ago and more - assault rifles or carbines, submachineguns, low-velocity grenade launchers of one kind and another, light machine guns.
There is a bewildering array of portable missile and rocket launchers, but these are generally meant for shooting up aircraft, vehicles or buildings - not people. For that, you're normally still firing boring old kinetic energy bullets, devoid of any major differences from those of World War II and earlier. (One might say that nothing much has changed since the late 19th century, unless you happen to be a gun dork and up on all the intermediate-power cartridges guff.)
But those who like a bit of mad science fiction technology in their gun news will be pleased to hear that - according to reports - a long-stalled 1990s plan to kit out US soldiers with a truly wack new firearm has come back to life.
Essentially, the idea is to have a gun which shoots special, extra-big 25mm slugs - sort of a cross between a normal bullet and a 40mm launched grenade. The projectile is thus big enough to put clever stuff in it, but small enough that a weapon carried by a normal person can shoot it a long way without the recoil knocking the user flat. (Everyone loves 40mm grenades, but they are so tubby that a shoulder launcher of reasonable weight and recoil can't throw them very fast - hence not very far either).
What you put in your big fat .98-calibre** slugs is a small HE-frag warhead - but that's not the clever bit. The clever bit is the electronic precision time fuse, which is set wirelessly by the gun's systems at the moment of firing. This means that the slug will explode at exactly the distance from the muzzle you want.
You can combine this with a laser rangefinder, digital three-axis inclination sensors and computer gunsights to achieve some almost Judge Dredd-style results. For instance your enemy is hiding unsportingly in a trench or behind a wall. You can ping his hide with the rangefinder, select an extra metre or two of distance on the fuze, and shoot slightly high. The grenade-slug will explode just above the target's head, spraying him with shrapnel despite his frontal hard cover. You could use the same trick to make your rounds explode right next to an enemy hiding around a corner.
Likewise, you can dial up slightly increased distance shooting at windows, thin walls, shrubbery or whatever. The projectiles will punch through to explode where you want them to, where impact-fused rounds would tend to go off too soon or too late.
The 25mm wireless airburst notion first got serious impetus as part of the US Army's Objective Infantry Combat Weapon (OICW) plan of the 1990s. This would have been a dual combo weapon, a bit like the rifles with underbarrel ordinary-grenade launchers which are common today. The 25mm smartshell gun would have been paired with an ordinary assault-rifle type shooter firing regular dumb bullets.
The snag with the OICW multi-shooter was that it came out ridiculously heavy, which put the whole thing largely onto a back burner at the Pentagon. But the 25mm smartshells were still the only realistic concept for a genuinely new kind of infantry weapon, and since 2001 the US forces have plunged into two large infantry wars. There has been more and more suggestion that the fountains of money now being poured into American military technology should try to focus a bit more on the grunts who are doing the actual fighting, rather than fighter pilots, submarine captains etc.
Thus the OICW 25mm smartgun has been turned into a standalone weapon, nowadays generally known as the XM-25 (X for experimental - it would presumably become the M-25 in line service). It is referred to variously as an Individual Airburst or Counter Defilade system.
The XM-25 dedicated airburst gun had been noodling along with the odd test here and there, but now it is said to be moving forward seriously to the point where it could be in Iraq or Afghanistan next year. This is according to the war-hacks at Military.com, who have spoken to Rich Audette, a senior Army official in charge of personal weapons.
"What we're talking about is a true 'leap ahead' in lethality, here. This is a huge step," Audette told Military.com last week.
As envisaged, the proposed M-25 would hold as many as ten 25mm smartshells in a box magazine. Its rifled barrel would let these airburst precisely out to 500m, or less accurately to 700m. Complete with computer/rangefinder/thermal-vision module the gun would weigh as much as a present day M-16 rifle+grenade launcher combo, and have recoil similar to an ordinary 12-bore shotgun.
The M-25 would seem on the face of it to be at a disadvantage in the closeup scuffling nowadays so common for Western footsoldiers, but possibly not. Though hefty, it is short and handy - about the length of an existing M-4 carbine with stock telescoped. Though the barrel is rifled, there's nothing to stop it being loaded with flechette or shot cartridges rather than airburst rounds, which would offer devastating in-your-face firepower. (There are some international legal issues around soldiers using shot rounds against enemy troops, but they wouldn't apply against most of today's enemies. The modern opposition aren't usually national troops, and even if they are the enemy nation hasn't usually ratified the relevant conventions. Shotguns are legally fine for police use, of course.)
Plenty of special forces operators, regular troops and SWAT cops are already happy to carry 12-bore shotguns of various kinds into firefights, after all - they'd presumably be happier yet with an even more brutal, approximately 4- or 5-bore*** weapon holding at least as many rounds. This would be the more so as the Army plans to offer door-breaching 25mm rounds, and shaped-charge impact warheads which could blow a hole in quite thick armour.
There would also be non-lethal options. Apart from simple baton rounds, it would also be possible to use the XM-25's precise airburst abilities to deliver "flash-bang" stun warheads exactly to the middle of a room - right through a door, wall or window.
There have also been reports and rumours that trendy fuel-air thermobaric "bunker buster" smartshells could be produced, though current US Army briefing documents (pdf) don't mention these. Thermobarics are much fancied for collapsing bunkers, tunnels and buildings, as the longer-lasting overpressure they yield is very hard on structures. The XM-25's ability to pop off its rounds dead in the middle of a target volume would certainly seem well suited to this kind of warhead, and there are already 40mm thermobarics to be had. However, the effect from a smaller 25mm version might not be enough to be useful.
All in all, then, the M-25 computer smartgunner of the future might not feel too disadvantaged among his squadmates with their rifle/grenade-launcher combos, squad-auto light machine guns, combat shotguns and suchlike. The US taxpayers might wince a little at the cost - the M-25 is priced at perhaps $25k, and each individual smartshell would be a swingeing $25. But the XM-25's advocates note that in fact a full set of fashionable optics attachments for a regular rifle costing a few hundred dollars can run to $30k, and the ammo costs wouldn't be all that big a deal in the great scheme of things. The smartgun wouldn't be for universal issue - it would be a special tool like a squad-auto machine gun or an entry shotgun. It would be issued to one or two men in a squad (section, in British usage) at most.
In a US war machine which is spending more than $300m per plane for stealth superfighters which may never see combat, a few tens of kilobucks per squad to give hard-pressed footsoldiers a better chance doesn't seem unreasonable. The Army programme managers are even suggesting that the XM-25 could lead to less civilian casualties, as it will let US troops winkle their enemies out of buildings, bunkers, urban areas and other tricky situations without resorting to massive firepower so often.
That's if it works, of course - arguably the Keep It Simple, Stupid (KISS) principle is being ignored here. The wireless smartshell fuses certainly sound as though they might be a bit prone to failure - or even to hacking or enemy meddling, perhaps. But you could always turn off all the electronics and keep on using the M-25 as an ordinary heavy rifle, shotgun or dumb grenade launcher. An enemy would have to be truly tech-savvy to make all the shells detonate in midair before they hit him, or - horrors - make them go off while still in a soldier's ammo pouches.
Meanwhile, even crazier developments are already afoot in the small-arms world. It seems that target-seeking bullets may not be that far off, for instance. And you have to like the 40mm wireless infrared video-camera surveillance projectile (pdf), which has already been available for a while.
Judge Dredd would be loving all this. ®
Bootnotes
*Though you won't be able to do so accurately: "Position and Hold must be firm enough to support the Weapon".
**Calibre is decimals of an inch, eg .45, .38, .50 etc (except that .38 is actually .357 - go figure).
***Shotgun bore diameter is measured by yet another recondite system. The number is approximately how many lead balls exactly fitting the gun barrel would weigh one pound. Brit usage is "12-bore" etc; Americans speak of "12-gauge". Ten-bore shotguns are the biggest ones commonly made nowadays. Back in black-powder times there were eight-bore and even (god save us) four or five-bore rifles. These monstrous old smoke-poles were used for such tasks as hunting elephants.