Original URL: https://www.theregister.co.uk/2008/07/22/pc_vendor_pushes_hackintosh/
Vendor touts PC's Mac OS X compatibility
But won't sell it with Apple's OS.
Posted in Personal Tech, 22nd July 2008 10:20 GMT
Apple Legal, we laugh in your face! Brassy computer company Open Tech is cocking just such snook Jobs-wards, though we note it's not brave enough to publish an address on its website...
Undeterred by Mac clone maker Psystar's recent run-in with Apple's lawyers, Open Tech has announced Open Tech Computer 1.0, a $620 bog standard system based on a 3.4GHz dual-core intel Pentium D 945 - yes, we're surprised there are still some of those around too - 3GB of 667MHz DDR 2 and an Nvidia GeForce 8600 GT graphics chip. It's got 500GB of 7200rpm hard drive storage and a DVD writer. 802.11g Wi-Fi's built in too.
Crucially, it's billed as compatible with Mac OS X 0.5 - aka Leopard. To be fair, it's also said to be compatible with Windows XP, Vista and Linux, but you'd expect those to be supported.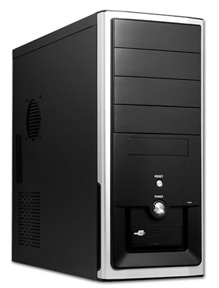 Open Tech's Open Tech Computer 1.0: DIY Mac
You'd expect them to be bundled with your system and pre-loaded too, and indeed they are. But closer inspection reveals Open Tech isn't going to be shipping systems pre-loaded with Leopard. It's not even going to include a Leopard DVD.
Open Tech will include a "do-it-yourself kit", which can be used, the company claims, with a copy of Leopard you've bought to get the Apple OS running on the Open Tech Computer.
We suspect, the DIY kit comprises the tools and instructions you can get by searching any of the 'hackintosh' online forums. In that respect, it seems no more open than any other x86-based PC.
Which begs the question, why buy a machine from Open Tech when you can build or buy your own no-name PC, a copy of Leopard and manipulate it onto the hardware, as one fellow did with his MSI Wind?