Original URL: http://www.theregister.co.uk/2008/05/23/review_dell_xps_m1730/
Dell XPS M1730 17in gaming laptop
The machine Dell calls 'The Beast'...
Posted in Personal Tech, 23rd May 2008 12:24 GMT
Review Dell's acquisition of Alienware, followed by the introduction of 13.3in and 15.4in laptops to its XPS range, signalled a shift from gaming machines, with the brand targeting the regular consumer instead.
Despite rumours circulating that the company may even stop making XPS–branded machines altogether, the XPS M1730 represents a return to core values - it's Dell's most focused gaming laptop to date. You'll find the use of high-end components, two cutting-edge graphics chips and every feature you're ever likely to need, all wrapped in a 17in chassis that screams for attention.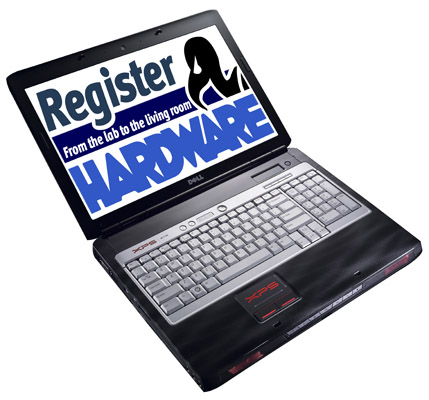 Dell's XPS M1730: a 5kg monster of a machine
Dell has christened this machine "The Beast" – a moniker it more than lives up to, not least in terms of size. It's absolutely massive, taking the opposite route to Apple's waif-like Macbook Air, and cramming in as many features as possible. It measures 56mm at its deepest, and weighs in at a spine-crippling 5kg.
You'll need the arms of an Olympian to carry it to the next room, then, and possibly a golf cart if you want to lug it further. Criticising the XPS for is weight is perhaps a little unfair, as it's designed purely as a desktop replacement machine, and is similar in size to most of its rivals.
The sheer bulk also manifests itself in several plus points, one of which being excellent ventilation. The use of two GPUs and twin hard drives typically result in a machine hot enough to warm a small group of homeless folk, but the M1730 remained cool to the touch at all times.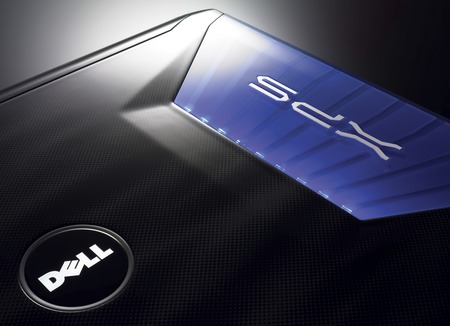 Lights everywhere
There's also loads of room for a good-sized set of controls. The spacious keyboard is ideal for all-night gaming sessions, and is one of the most comfortable we've used on a laptop. The large, individually mounted keys respond to the lightest of touches, yet have a long enough travel to prevent typos. That said, the quality of the keyboard does lag behind that of the XPS M1330, with the board flexing slightly under pressure.
Those who enjoy playing games in the dark will be happy to find the keyboard is backlit, although the lighting can be turned off to save power. This may be needed if you're away from a mains power source - we didn't even manage an hour between charges with the Nvidia's dual-GPU SLI feature activated.
The chassis is constructed from a combination of plastics and magnesium alloy, and the results are impressive. Both the palm rests and the screen surround resisted pressure with ease, and you can pick this machine up from the very corner without fear of any creaks or groans.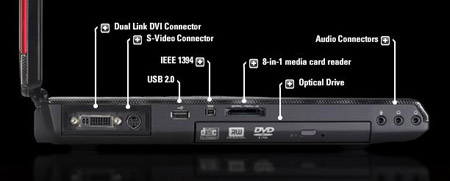 Good build quality isn't enough in the world of gaming, however, and any creditable challenger is required to sport as many coloured lights as possible. To this end, the M1730 has plenty. Most of the rear of the lid is taken up by backlit panels, with coloured LEDs also behind the speaker grilles and touchpad. For those wanting a more refined hue, the colours can be changed easily in the Bios.
Subtle lighting shades won't turn the XPS into a shrinking violet, and the faux-carbon finish makes this one of the most distinctive laptops currently available. As with anything this brash, it's a love-it or loath-it affair, but it's definitely not a machine for the shy and retiring.
A Logitech gaming display is located above the keyboard. This LCD screen is the same as can be found on Logitech's gaming keyboards, showing system information, the time or other details. Bit of a gimmick, really.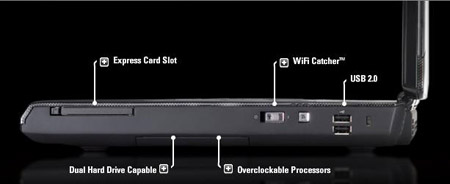 On the right of the chassis you'll find an ExpressCard 54 slot, hardware switches for Wi-Fi and Bluetooth, and two USB ports. The left-hand side offers a microphone and two headphone sockets, an eight-in-one card reader, one USB port and a mini Firewire port. There's also a dual-format optical drive. Connections to external displays can be made using either an s-video or a DVI port but, disappointingly, there's no support for HDMI. This is a particularly strange omission on the M1730, as it can be configured with a Blu-ray optical drive for an additional £260.
The rear of the machine offers one further USB port and a Gigabit Ethernet connect. The rest of the panel is taken up by a ventilation system that wouldn't look out of place in a wind tunnel, with several fans drawing air in from the bottom of the machine to keep the powerful components at a reasonable temperature.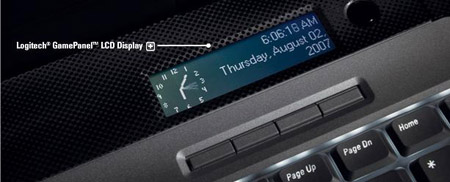 The Logitech mini display is a gimmick...
As with the M1730's cheaper sibling, the 17in Inspiron M1720, there are a bank of multimedia keys on the front of the chassis, letting you control your CDs, DVDs or media files at the touch of a button. Dell also throws in a remote control, letting the more laid back among you to manage your media from a distance.
It's a good machine for watching movies on, the big display featuring a native resolution of 1920 x 1200 pixels, with pin-sharp images on offer. The screen is backlit by regular fluorescent cathode technology, rather than the LEDs found on smaller XPS models. Colours remain accurate across the width of the panel, and it's a pleasure to use. Reflections can be problematic in direct sunlight – as with all such glossy panels - but it remained viewable in all but the brightest of lighting conditions.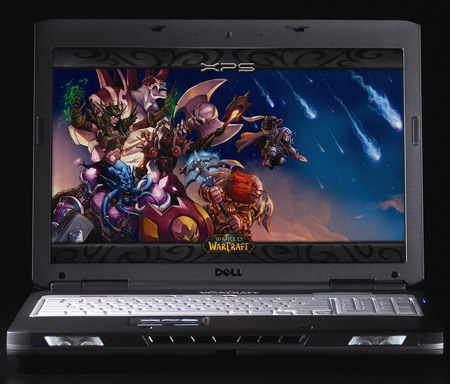 ...but the main, 17in display is a beauty
The display is supported by the best graphics set-up you'll currently find on any laptop: two Nvidia GeForce 8800M GTX GPUs in an SLI configuration. With each chip connected to 512MB of dedicated video memory, the Beast promises far better performance than past gaming laptops.
Dell also promises better performance than rival gaming machines thanks to the inclusion of an Ageia PhysX chip. This handles complex physics calculations that would otherwise be left to the CPU or the GPU. Alas, many current titles haven't been optimised to take advantage of the Ageia chip, and we didn't notice any major benefits during our benchmarking. However, with PhysX due to be integrated into future Nvidia GPUs, it looks likely that more and more upcoming games will take advantage of the technology.
The lack PhysX support apart, the M1730's 3D capabilities are quite frankly astonishing. The previous range-topping XPS offered good performance for a laptop, but it was always its all-round abilities that helped it to impress. In this case, the Dell comes as close to bridging the gap between desktop and laptop as we've seen to date.
3DMark06 Results

Longer bars are better
The M1730's 3DMark06 score of 12,106 is considerably more than we've experienced from any other laptop, and highlights just how much quicker the GeForce 8800M GTX is when compared to its predecessor, the GeForce Go 7950GTX.
Crysis Results

Performance in frames per second
Longer bars are better
That said, there's still some way to go before the laptop can match a desktop rig for sheer power. Running Crysis at 1024 x 768 saw a respectable average frame rate of 55f/s, but one we upped the resolution to a more detailed 1680 x 1050, it dropped to around 17f/s. In its native 1920 x 1200 resolution, the Dell really struggled, the frame rate flickering between 12 and 13f/s.
As with the Alienware Area 51 ALX CrossFireX desktop PC we reviewed recently, there's no way of playing Crysis with anti-aliasing activated, with frame rates dropping to an unplayable 4f/s when we turned it on. Keep your expectations realistic, however, and it's still possible to play at a decent resolution without any major trouble. We also found a host of other games worked in anti-aliased mode without trouble.
Our review machine was fitted with a high-end Intel Core 2 Duo T9300 processor running at 2.5GHz. Performance was further enhanced by the inclusion of 4GB of memory, and the two 160GB hard drives spin at a rapid 7,200rpm. You can also opt for a 64GB SSD although, at a whopping £470, it's not likely to appeal to the masses. With the standard drive in place, the Dell has no trouble running multiple applications, and makes an excellent choice for those looking to replace their desktop PC.
This was backed up by an overall PCMark05 score of 6183 – again, one of the highest we've seen from a laptop, but still a way off the 7039 yielded by Rock's Xtreme 770, also equipped with a pair of GeForce 8800M GTX chips but a Core 2 Extreme CPU.
Windows Vista rates the Dell with a score of 5.1: 5.4 for the CPU, 5.1 for the memory, 5.9 for the graphics, 5.8 for gaming graphics and 5.9 for the hard drive.
Verdict
With the basic spec starting off at around £1399/$1999 and rising to over £2600/$3800, the XPS M1730 is not a cheap machine. But its impressive specification and sturdy build help to make it reasonable value for money. A similarly configured Alienware laptop costs considerably more, despite the use of a generic Clevo chassis on 17in models and, in the UK at least, there are few manufacturers who can compete on price or quality. If you're in the market for a gaming machine and size isn't a factor, it's difficult to recommend anything else.