Dell XPS M1330 laptop
Polished, portable powerhouse
Review Dell's XPS range has been synonymous with high-performance gaming computers. However, once it acquired gaming manufacturer Alienware, a subtle shift in branding saw some less focused multimedia-based machines being pushed out under the XPS banner.
The XPS M1330 follows in the footsteps of the XPS M1210, a 12.1in machine that was one of the first of the PC giant's ultra-portables to cram in a dedicated graphics chip. Although it could double the performance of its nearest rivals, it was also double the thickness, in order to keep hat GPU cool.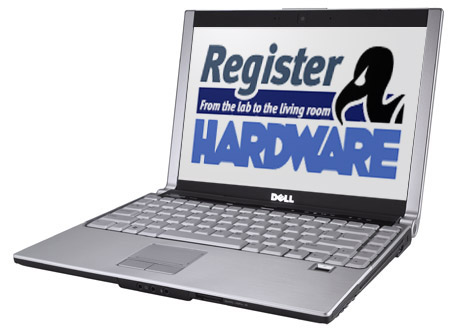 Dell's XPS M1330: similar to Sony's SZ-series
The M1330 retains a dedicated graphics processor, but Dell claims that at just 25mm its machine is the thinnest 13.3in laptop in the world. Well, until the MacBook Air goes on sale - the Apple's machine's thickest part is thinner than the Dell's thinnest...
But these are not directly comparable machines. The first thing that sprang to mind when we clapped eyes on the M1330 was just how similar it is to Sony's Vaio SZ series. With a 13.3in display, wedge-shaped chassis heavily tapered at the front and brushed aluminium palm rests, it could be the Sony's long-lost brother.
In fact, Sony must be pretty miffed, as not only does the XPS share the SZ's good points, it also adds a dash of style and colour. If black doesn't do it for you, Dell also sells the XPS in Crimson Red - however, the additional colours available on other Dell products are strangely absent.
The coloured (or not) lid is finished in a rubbery plastic, which we found both tactile and hardwearing. The chassis itself uses magnesium alloy to offer strength and to peg the Dell's overall weight at a highly portable 2kg.
Like the Sony, this machine is available with either an LED-backlit display or a traditional, cheaper (by £50) fluorescent panel. Our review model featured the former, and we recommend the extra outlay - it's brighter than the regular screen and its colour reproduction was sublime.