Intel Core 2 Duo T9500 mobile 'Penryn' processor
Rock updates its X770 laptop with the latest mainstream mobile CPU
Review We started the year with a review of a Rock X770 gaming laptop. We used the machine to look at the Nvidia GeForce 8800M GTX graphics chip, but it's time to look at the processor, now upgraded to Intel's 45nm mobile Core 2 Duo T9500.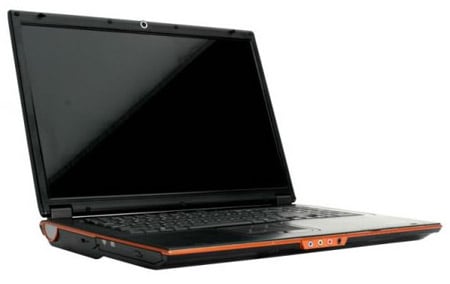 Rock's Xtreme X770: now with Penryn
The X770 we looked at before came with a 2.6GHz, 65nm Core 2 Duo T7800, which contained 4MB of L2 cache and sat on an 800MHz frontside bus (FSB). The T9500 runs at the same clock speed as the T7800 and the same FSB frequency, but it packs in an extra 2MB of L2.
Looking deeper into the specifications of the two processors, the TDP remains unchanged between the generations - both consume up to 35W. However, the core voltage drops from 1.363V on the T7800 to 1.063V with the T9500. The other change is in the instruction set, as the old 65nm 'Merom' core supports SSE 3, while the 45nm 'Penryn' core supports SSE 4.1. But that's not currently of much use unless you are running the latest version of DivX.
Rock sent us the X700 laptop with both T7800 and T9500 CPUs. The machine also had GeForce 7950 Go GTX graphics installed, as had one of the two X770s we looked before, so the new model is directly comparable with the version that we saw in our previous review.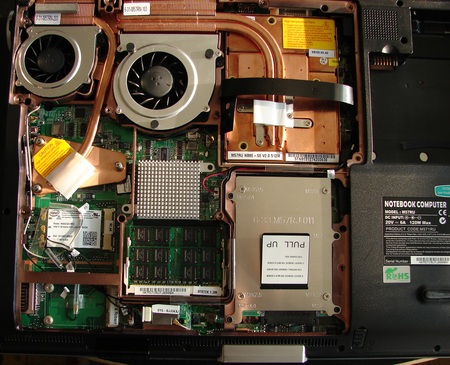 Remove the battery and behold: the beast's innards
Swapping the processors was incredibly simple. Remove the battery, unscrew the bottom plastic cover and then undo the three screws that hold the heatsink against the processor. Swap processors, replace the heatsink, cover and battery, and you're done. The Bios handles the changes without any input from the user.
COMMENTS
Re: @Rik
Who would shell out that much cash for a gaming laptop at all? For that much you could get an exceptionally ridiculous amount of gaming desktop. Have you ever tried loading levels off a raid 1+0 of 15krpm SAS drives on a really high end controller? You could get that kind of hardware, plus all the crazy video cards and a quad core for the price of this laptop.
Or you could pay probably 1/4 the amount of the laptop to get a desktop with similar specs.
Portables and games just don't go together. Doesn't make any sense.
@Rik
...a point which I thought was well made in the article when it was pointed out that the CPU was hammered in testing and you could probably double the battery life figures for less intense use.
More pertinent might be to wonder who on Earth would shell out the thick end of two grand on a gaming laptop to run office apps on though?
Surely
CPUs are generally idle more than they are busy when people are doing office work, so it would have been better to measure battery life under such conditions.