Original URL: https://www.theregister.co.uk/2007/03/21/apple_tv_ships/
Apple TV goes on sale
Not just for the HD buffs
Posted in Personal Tech, 21st March 2007 14:45 GMT
Apple has at last confirmed what pre-order customers already knew: its Apple TV set-top box is flying out of the warehouse doors straight to buyers. It'll arrive in Apple's offline stores in the US this week, it said.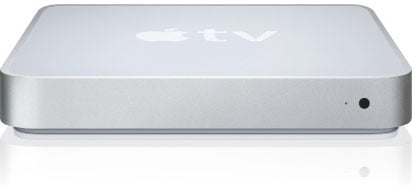 Pitched as a device for the HD era, the Apple TV is also capable of pushing video content onto the screens of standard-definition TVs, provided they have component-video inputs, though we're sure there will be plenty of third-party converter cables and adaptors for s-video and composite-video, maybe even SCART, in due course.
And while Apple's been touting the Apple TV's support for pre-standard 802.11n wireless networking, the box will also communicate using 802.11g, 802.11a and even 802.11b, though you'll need 802.11a/g for video streaming.
In addition to video - the application the Apple TV has been most touted for - it will play back MP3, AAC, Apple Lossless, AIFF and WAV audio files, and display a range of photo formats. So it's a handy digital music box for those who're fed up that their Squeezebox doesn't play iTunes-downloaded songs. It has RCA stereo jacks to connect it to a hi-fi.
The box also has a 40GB hard to cache streamed content on, so you don't have to keep your PC or Mac turned on all the time. And it has good old fashioned Ethernet on board for folk with plenty of CAT5 around or a powerline link in place.
The Apple TV costs $299/£199 inc. VAT.