AMD and Nvidia extreme GPUs workout
Visual feast
Sapphire Radeon HD 7970 Dual-X
As one of AMD's biggest partners, Sapphire have a number of HD 7970 boards in its catalogue. One of the latest is the HD 7970 Dual-X which for around £380 comes factory overclocked and dumps the reference AMD design cooler for a neat dual fan cooling solution. Two 90mm fans sit on top of a large heatsink which takes the heat away from the core via five copper heat pipes.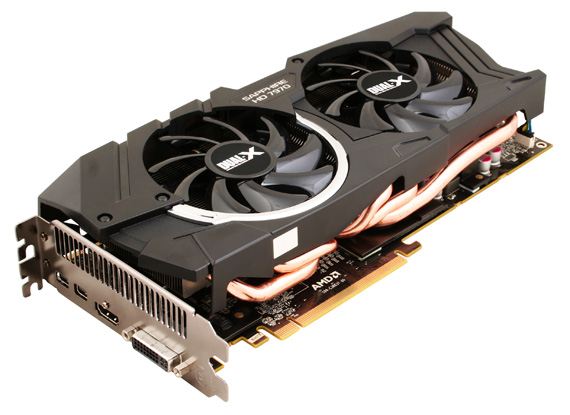 Sapphire Radeon HD 7970 Dual-X
There's a tiny two way switch on the on the top of the PCB which controls the boards two BIOSes. Yep the card comes with two BIOS's, the first one, the standard setting if you like pushes the cards clock speeds up to 950MHz for the core and 1,475 (5.7GHz).
Push the switch to the second BIOS and things get very interesting, the speeds get even higher; 1GHz for the core and 1,450 (5.8GHz) effective for the memory, but on this setting there is the opportunity to raise the cores voltage enabling the clock settings to be pushed even further. Thankfully this mode also allows the fan speed to be increased which should help keep the card cool and stable while being overclocked.
Zotac GeForce GTX 680
Zotac offers a number of variations on the GTX 680 but the basic version is the vanilla box one. Namely, for around £440 you get something that is totally as per Nvidia's reference design, including clock speeds. The only noticeable differences are the Zotac labels and colour flashed on the cooler.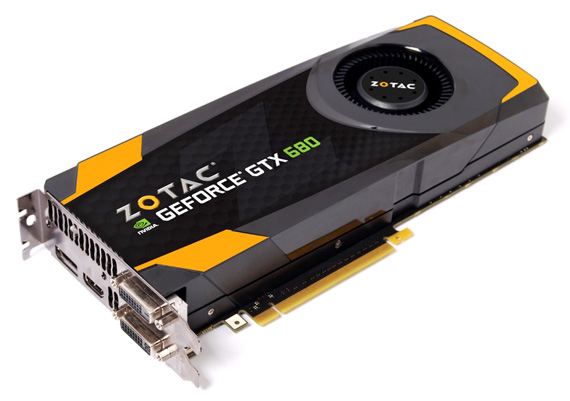 Zotac GeForce GTX 680
Until the GTX 680 emerged, AMD's Radeon HD 7970 had its moment in the sun as the fastest single core graphics card available and as such the company had the high-end market pretty much to itself. Yet the arrival of Nvidia's GTX 680 has seriously rained on AMD's parade, taking back the title for the fastest single core card and stirring up the market at the same time.
Verdict
The game is not lost though, as it all depends on the side you take. The AMD's tech in the Sapphire delivers flexibility and value for those who want to experiment with overclocking, thanks to its very effective cooling. Alternatively, for fiddle-free performance, the Zotac Nvidia option looks appealing. That said, Zotac's GXT 680 Amp! Edition offers versatility for extreme tweaks, but you'll need to tweak your budget too. ®
Benchmark Tests
3DMark 11

1080p Extreme Preset: overall score
Longer bars are better
DirectX 11 gaming – 
DiRT3

1080p 4xFSAA Ultra settings: average frame rate
Longer bars are better
DirectX 11 gaming – 
Aliens v Predators

1080p average frame rate
Longer bars are better
Sponsored: Minds Mastering Machines - Call for papers now open