AMD and Nvidia extreme GPUs workout
Visual feast
Extreme PC Week

At the very extreme end of desktop graphics are the dual GPU, frame crunching, power hungry monsters that you won't give you much change from a grand. The extreme offerings can be a little difficult to find too, as most card vendors only produce a limited range. Instead, they prefer to concentrate on the next rung on the ladder down, the high-end cards, before turning to the real bread and butter part of the market; the entry-level cards.
Yet the extreme end of innovation is the ground where the two giants of the dedicated graphics architecture design, AMD and Nvidia, slug it out. In the most recent bout of high-end graphics technology launches, AMD turned up with its Southern Islands architecture in December 2011 and Nvidia was nowhere to be seen. In fact it was only in March 2012 that Nvidia could respond to AMD's baiting with cards built around the new Kepler architecture, that we'll come to shortly.
AMD Southern Islands

AMD's Southern Islands architecture takes care of all its 7000 series cards and is the first to implement the company's Graphics Core Next (GCN) technology. The single GPU flagship of the range uses the Tahiti core better known to you and me under its marketing moniker of the Radeon HD 7970.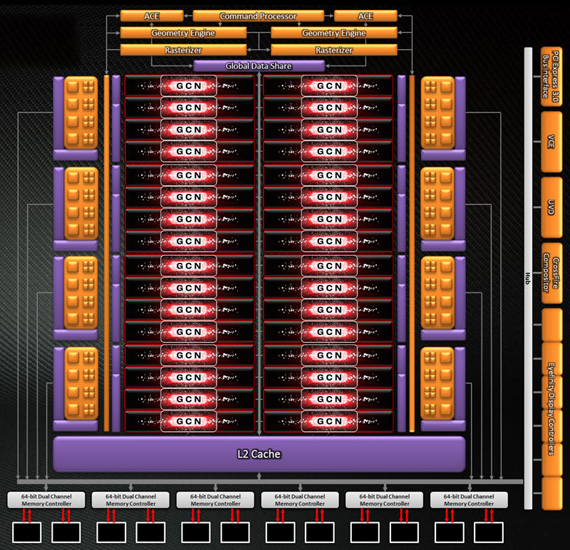 AMD Radeon HD 7970 Tahiti block diagram
Built on a 28nm process, the world's first GPU to do so, it has no less than 4.3 billion transistors squeezed on a die that is some 365mm². Now 4.3 billon transistors sounds OK if you say it quickly enough but let's try to put this into some kind of perspective. Take Intel's current top of the range Ivy Bridge processor, the Core i7-3770K, has just 1.4 billion on a 160mm² die. Yup, this AMD chip is a monster. It also lays claim to another couple of firsts: the first graphics core to support DirectX 11.1 and the first to support PCI-E 3.0.
Clock speeds for the HD 7970 are 925MHz for the core with 2048 Stream Processors running at the same rate. The huge 3GB of GDDR5 memory runs at 1,375MHz or an effective memory speed of 5.5GHz. The graphics RAM utilises a 384-bit memory bus, giving the HD 7970 something in the region of 264GB/sec of bandwidth.
AMD's multi-monitor technology gets a boost in the Tahiti core – Eyefinity Version 2.0 supports monitors of different sizes and resolutions, allowing custom resolutions to be created too.
Sponsored: Minds Mastering Machines - Call for papers now open