Motorola Dext Android smartphone
Well, hello Moto
If you have a lot of contacts, the sheer wealth of constantly updating information is a little overwhelming at first, but we quickly got used to it. Our only gripe is that the Happenings window collates messages from all your sources, rather than offering the option of separate windows for Facebook, Twitter etc. Nevertheless, you can, of course, download dedicated Facebook and Twitter clients from the Android Market.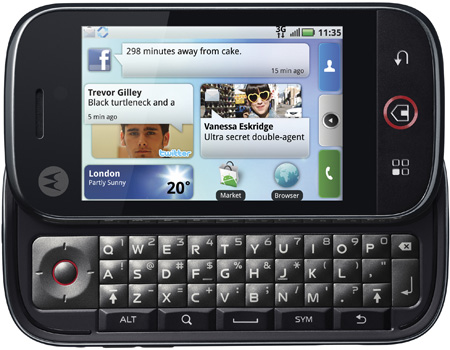 A universal in box keeps you up-to-date with all communications options
Email and text also get the all-in-one treatment, with a 'universal inbox' that collates all your messages, including email, texts and social network updates, making it easy to check your latest communiqués. If you prefer, you can also view them separately in more conventional style. Motorola has wisely left the option open, though they won't flash up on the screen in the Happenings style.
But Motoblur is more than a mix and match of social networking features, it's also a cloud-based repository for all your phone-based info. So if you lose your Motorola Dext, you can wipe its memory from your web-based Motoblur account and add the info to your replacement phone. Someday, we suspect, all smartphones will work this way.
Elsewhere, the Dext is standard (read: very good) Android fare, with a broad selection of widgets to customise your home screens, an ever-increasing range of wares on the Market and the ability to access your latest updates and notifications by dragging down from the top of the screen.
Call quality through the phone's speaker is fine and we never had any problem picking up a signal in town. Browsing is equally painless using Wi-Fi or HSDPA 3G with 7.2Mbps downloads. The screen flips into landscape mode when you rotate it on its side and its onscreen zoom buttons are simple to use and access. There's no stylus, but you won't need it, since the sensitive screen makes it easy to access links with your finger or you can use the navpad on the Qwerty keyboard.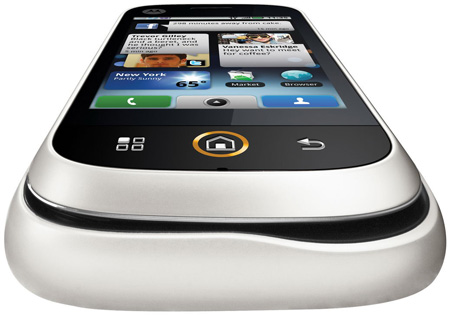 Stylish, albeit a bit on the chunky side
The 1x button on the screen snaps the page back to its original size and the magnifying pane allows you to find your way around busy pages with ease. Somewhat disconcertingly, there's no automatic URL bar, but it appears as soon as you start typing, which is actually a perfectly elegant solution, once you get used to it.
Sponsored: Minds Mastering Machines - Call for papers now open