Motorola Dext Android smartphone
Well, hello Moto
Video records in HVGA resolution at 25fps – not bad, but it doesn't need much encouragement to start looking jerky, though there are easy options for uploading to your Facebook, Twitter, MySpace or Picasa accounts.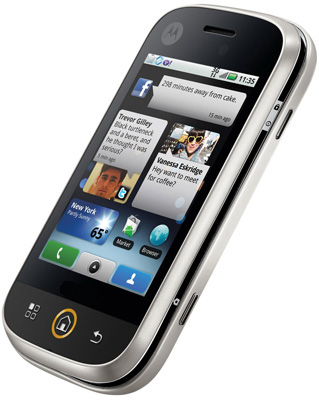 The always on-line enticements take their toll on battery life
Other features include A-GPS supported by both Google Maps and Orange Maps, both of which worked fine, though the Google variety appears to have more features. There's also Quickoffice for Android, which allows you to view docs, but not create them, plus ShazamID for identifying mystery tracks and imeem, a music streaming service similar to Last.fm.
Battery life isn't great, though. Encouraging owners to connect to the internet virtually all the time to pull down Facebook updates is bound to give the battery a bit of a pummelling. Motorola quotes around 360 hours standby but, in practise, we barely got more than a day out of it.
Despite its emphasis on social networking, the Dext seems a little pricey for the youngsters who first helped push Facebook to more than 300 million users. But then again, recent research has shown that da yoof are deserting it in droves now that their parents are getting into it, and that's a much more attractive market for the Dext anyway.
Verdict
Indeed, the Dext has a gorgeous touchscreen, a fine Qwerty keyboard, good browser plus a reasonable camera and media players. User friendly, it offers plenty of potential for personalisation, along with growing range of apps plus Motoblur's ability to keep you up to the second with your social networks. After the last few years of underwhelming variations on a Razr theme, Motorola has made a serious attempt to knock back the doubters with the Dext and, in all honesty, we're a little surprised that it has come up with such a strong offering. ®
More Phone Reviews...

LG
New Chocolate
BL40

HTC
Touch 2

Palm
Pre

BlackBerry
Curve
8520
Sponsored: Minds Mastering Machines - Call for papers now open

Motorola Dext Android smartphone
Motorola is definitely back in the running, with a high quality smartphone and a unique networking powerhouse in Motoblur.
Price:
Orange 24-month contract from £35pcm RRP