Asus M930 Windows Mobile smartphone
Built like the proverbial brick dunny
The 930 is driven by Windows Mobile 6 Standard. With no pretensions to touchscreen jiggery-pokery this may be the most usable of the current iterations of WM. It's certainly faster and more stable than its Professional siblings and just gets on with the job in hand without trying to be an iPhone. Of course, the flipside of all this is that it's also as dull as dishwater, but you can't have everything.
Out front, you have a regular numeric keypad along with the usual main menu and backtrack keys, soft-menu buttons, and answer/end keys, the latter all flanking a rather fine and extremely well calibrated metal navpad. Above them all is an unremarkable though nicely bright and colourful 2in, 400 x 240, 65,536-colour screen. So far, so work-a-day.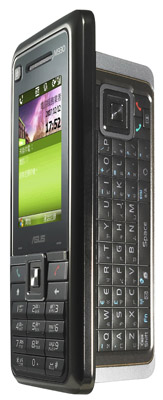 Nokia E90 inspired?
Prise the 930 open about the finely crafted left-hand hinge and things get more interesting. You're presented with a full Qwerty keyboard and 2.6in, 400 x 240 screen - again with 65,000 colours - and a VGA camera for 3G video calls.
The quality of the keyboard is fully deserving of an encomium. To start with, the hinge mechanism allows the screen to fold slightly back and under the lower half of the device so when laid on a flat surface the keyboard is canted up at about 20° from the horizontal, the screen at about 25°.
The keyboard has a lot stuffed into it too. On top of the usual Qwerty layout you also get a full numeric row; a decent spattering of dedicated function keys, including a Home key and a handy Mode button that cycles through five shortcuts; a duplicate of the front navpad; an action key; and call/end keys. When the phone is open these latter automatically fire up the speaker phone, which we found useful.
Sponsored: Minds Mastering Machines - Call for papers now open