Asus M930 Windows Mobile smartphone
Built like the proverbial brick dunny
Asus' official figures quote four hours of talk time and 200 on standby, which seem plausible enough. Either way, it's one of the better-performing Windows smartphones on this front.
We had no complaints when it came the day-to-day usage, the 930 sounding clear as a bell and having no problems holding onto cellular or Wi-Fi signals.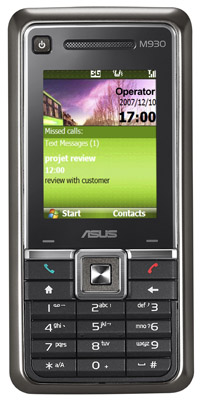 No touchscreen jiggery-pokery here
The M930 comes bundled with a pretty cheap pair of headphones and a rather swish faux-leather belt-fitted carry case. Alas you have to undo your belt to slip it on - in our book no mobile phone holder should require the partial removal of your pants in order to use it. Folk get arrested for far less in Brown's Britain.
Finding the M930 on contract may take some doing. We tried and came up empty handed, but Expansys, for one, is knocking them out for £330 unlocked. Google's Froogle lists others.
Verdict
As we expected after looking at the P750, Asus' M930 is a solid, well built and thoughtfully designed smartphone. If little is broken by way of new ground, the excellent keyboard and nicely executed hinge mechanism go some way to distinguishing the Asus from the competition. It's a shame about the lack of a decent Windows Mobile office suite, though - that could be a deal breaker.
Sponsored: Minds Mastering Machines - Call for papers now open

Asus M930 Windows Mobile smartphone
Built like the proverbial brick outhouse and with a degree of style. But not being able to create Office documents is a real drawback.