Sony Ericsson Cyber-shot K850i camera phone
So cutting edge you could shave with it
For these sample shots both phone and camera were in automatic, 'point and shoot' mode. On the upside, the presence of a decent flash at least makes night-time photography a working possibility. Video capture is nothing out of the ordinary, though, at a standard 30fps, 320 x 240 (QVGA).


K850i on the left, Nikon on the right. Fine image for a camera but better colour saturation and definition at a distance from the Nikon
Click for full-size version
The K850i comes with a decent range of peripheral functions, including applications called VideoDJ, PhotoDJ and MusicDJ, which allow you to muck about with media of the three respective types. The music function is handy for making your own polyphonic ring tones if the muse takes hold. The lack of a universal ringtone converter is a bit annoying as even our cheap and cheerful LG KG275 has one and it does come in handy.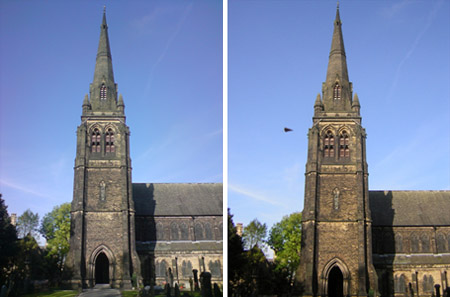 Less to choose between the two in this shot of a nearby Unitarian Church, though the Nikon does seem to have captured a passing UFO
Click for full-size version
Customisation isn't the K850i's strong suit with, for instance, no alternate menu views other than the basic 4 x 3 grid. In fact, when in any other theme than the rather garish 'Laser Precision', the whole menu interface is pretty much identical to that on an old K610i we have lying around.
It would have been a nice touch to load the K850i with the T650's rather funky keyboard lighting effects and time-of-day colour changes. OK, they are pointless, but flagship products are where you expect to find the useless but cool stuff. A nice touch is the ability to switch the flash on to serve as a torch, as is the fact the screen changes from portrait to landscape when you tip the phone on its side, iPhone-fashion. Bizarrely, this doesn't work when you're using the web browser, which is one of the apps crying out for this feature.
The usual Sony Ericsson PC Suite software allows you to sync your contacts to Outlook, use the phone as a modem, copy across files and the like.
Sony Ericsson claims a talk time of up to nine hours with stand-by operationg of stretching to 400 hours. Even if these numbers are a little optimistic - though our experiences give no reason to assume they are - they are impressive for an all-dancing, all-singing handset like this. Call quality is very impressive, too, as is the sound put out by the built-in speaker. This is one mobile phone that is also very good at just being a mobile phone.
Verdict
Sony Ericsson's K850i is great piece of design, well built, nice to use and with all the features you expect from a top-end phone. We can't help but feel the T650 leaves it behind in the 'cool' stakes, and what price a phone with the K850i's camera abilities and the Wi-Fi and 8GB memory of the W960i? Now that would be something to drool over.

Sony Ericsson Cyber-shot K850i camera phone
It's good. Really, genuinely good. But perhaps just a little dull when compared to some of its lesser stable mates...
Price:
From free on contract, or £349 for handset only RRP