Speaking in Tech: Live from (not) The Last VMworld
Like 'Pink Floyd: Live at Pompeii', only with more VMware announcements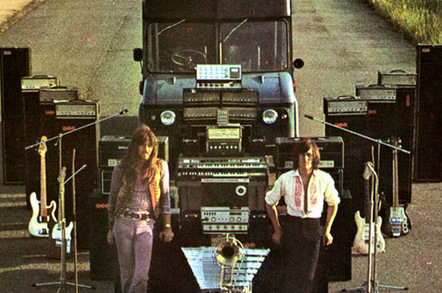 Podcast

Hosted by Greg Knieriemen, Ed Saipetch and Sarah Vela. This week we are live from VMworld in San Francisco and we cover Cisco, Apple and, of course, VMworld.
Our special guests this week are Chris Wahl from Rubrik and Lauren Malhoit from Cisco.
This week, we check out...
(1:00) Live from the last VMworld
(3:30) Introducing Chris Wahl from Rubrik
(5:18) Tim Cook crashes Cisco party
(9:15) VMware announces Photon, again
(12:30) Changes ahead for EMC and VMware
(16:10) Talking EVO
(22:15) "2D Chris Wahl" and his new book
(25:00) Cloud Bunnies at v0dgeball
(27:42) Eye rolls at VMworld
(30:32) Sarah's social media school
(35:48) Lauren Malhoit crashes the podcast
Listen with the Reg player below, or download here.
Podcast Subscriber Links
Subscribe through iTunes
Subscribe through Feedburner
Subscribe through Stitcher
Feed URL for other podcast tools – Juice, Zune, et cetera: http://nekkidtech.libsyn.com/rss