Inside the BBC's R&D Labs
From the Lab to the living room
Vision On
While some of the projects are about visualising information for the internal use, or developing products and standards from which the BBC may derive some income in future, others have a very clear public service foundation, including work on the user experience and accessibility.
A small server module, whose design will be made freely available when complete, is being used by the accessibility team to enhance standard set-top boxes. The BBC's working with students from Lancaster's Beaumont College to create interfaces that can be controlled with just a single switch, for example.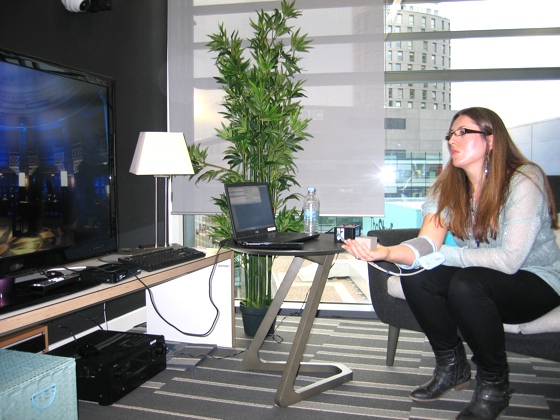 Hybrid TV developments include a pressure cuff triggered by on-screen events
The same module can also be used in reverse, triggering external devices based on the broadcast, for instance controlling a motor or blood pressure cuff – a sudden vibration in your hand is a lot more startling than an audio description when a monster appears without warning.
By sharing the design of the module, it should be possible to integrate it with a wide range of accessibility aids, rather than limiting people to a single 'special needs' set-top box.
The Lab team is working too on visual design, including fonts for television. Perhaps the end is in sight for the near-ubiquitous Tiresias.
A Question of Sport
Sport makes up a large chunk of the BBC's output, and there too the R&D Lab is creating new tools that can help enhance how it's presented – and with more than just fancy graphics for scores.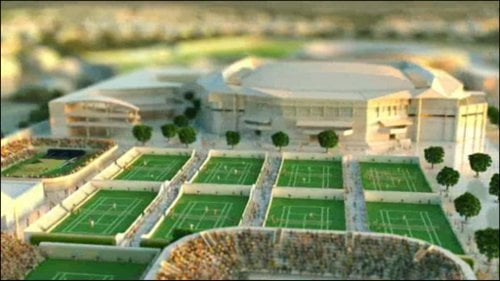 Venue Vu: CGI architecture with live tennis matches smoothly inserted into the fly-by
Venue Vu, for instance, seamlessly joins 3D rendered fly-throughs of a sports venue like Wimbledon with the action on the court. First seen at this year's tennis tournament, it's likely to get another outing for the Olympics next summer.
At an earlier stage of development is a biomechanics system that can analyse factors like the angle at which a diver enters the water, or show the centre of gravity of a jumper, giving extra opportunities for pundits to wax lyrical; the demo I saw had pretty basic graphics, but we may see a more sophisticated version at the Olympics in 2012.