Inside the BBC's R&D Labs
From the Lab to the living room
Look around you
A while ago, I looked at what's coming after HD, including systems like Super Hi-Vision, with its 22.2-channel surround sound. But that's not the only way to create a more immersive sound, as the Lab team behind the 3D sound experiments explained, in a test room with a huge array of speakers.
Like the old ambisonics, 3D sound isn't fixed at a specific number of speakers. An impressive demo recording of Elbow in Manchester's cathedral used ambisonics to recreate the audience and echoes and a technique known as Vector Based Amplitude Panning, to position the performers in the soundfield.
It may be a much more immersive sound, but of course it's not practical for many living rooms. With rather a lot of folk, especially radio listeners, using headphones, binaural stereo can also create a realistic impression, and that too is an area the audio team are working on.
Both are some way from the living room – there's no mechanism yet for broadcasting 3D audio, with its lack of distinct channels, and though binaural stereo can be transmitted easily, it works best when it's tailored to the listener's own head and ears.
Of course, with programmes like Doctor Who being made in HD and 5.1 sound, there's one very obvious question to ask: why don't they make the monsters appear to be behind the sofa? The lab hasn't quite sorted that one out, but in a neat demonstration showing how the 'internet of things' can be linked with TV broadcasts, a live dalek toy bursts into life when one of his fellows appears on screen.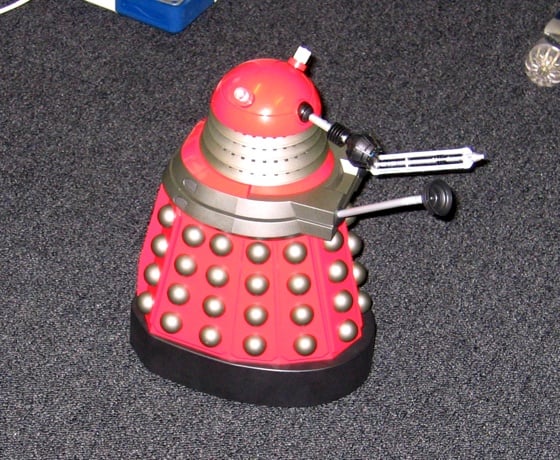 What R&D labs are really for
The Money Programme
Some may question why the BBC puts so much effort into R&D. But with around 50 active projects, and an income of around £16m, including money from the licence fee, commercial licensing – the BBC has over 160 patents – and grants, the R&D team punches well above its weight.
The modern office tower in Salford that houses R&D North Lab might not have the quirky charm of Kingswood Warren, but it certainly still seems to house the same inventiveness. ®