Icecrypt T2400 Freeview HD DVR
Media savvy?
Media show
The Icecrypt is also intelligent enough to let you watch a third channel from the available multiplexes while you're recording two others. Oddly, though, you can't pause live radio, unless you're recording it, and you can't save the rewind buffer either.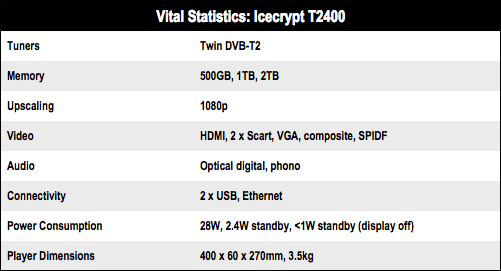 The T2400 doesn't have any DLNA or other network media playback facilities, but it does have a partition on the hard drive for media; you can view JPEG images, and play MP3 files, and play back video clips. Files can be played from USB, or copied to the hard drive, and an anonymous ftp server allows you to transfer content from your PC – though it only shows what's on the media partition, so you can't copy recorded shows from the box this way, and only SD recordings can be copied to a USB drive.

Nothing special here – but the T2400 is fanless, and quiet
Compatibility is limited, however; test MKV files played back, as did the output of the DivX encoder in SD; a DivX HD copy of the Sony Bravia Paint advert stuttered and appeared jerky at times, while an Xvid file didn't play at all, and files extensions other than avi, divx and mkv didn't even appear in the browser.
Verdict
Of course, some PVRs can't play any media files at all, and Dolby transcoding is still only found in a few. But nevertheless, at this price, it's a shame that these features missing, and that the EPG is somewhat flawed. If you can live with those limitations though, the T2400 is worth checking out. ®
More Freeview HD Set-top Reviews…

Digital
Stream
DHR8203U
Humax
HDR-Fox T2
TVonics
DTR-HD500
Group Test
Freeview HD
Receivers
Sponsored: Becoming a Pragmatic Security Leader

Icecrypt T2400 Freeview HD DVR
TV recorder with dual Freeview HD tuners and media playback options.
Price:
£329 (1TB), £390 (2TB) RRP